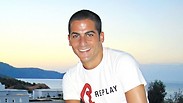 A memorial plaque near Paris in memory of Ilan Halimi, a French Jew tortured and murdered in 2006, was pulled off, thrown on the ground and covered with anti-Semitic writing.

The plaque, located in a park in the Paris suburb of Bagneux, was found vandalized Wednesday morning. It was covered with anti-Semitic graffiti, swastikas and the phrase "Free Fofana"—referring to the gang leader responsible for Halimi's death.

"This kind of act is an insult to this young person and all those who fight against anti-Semitism and racism," said Bagneux Mayor Marie-Hélène Amiable, according to the French newspaper L'express.

Amiable added that the plaque, which has already been maliciously vandalized two years before, would be replaced as soon as possible.

The affair is still considered to be one of the most horrifying incidents of anti-Semitism in France's recent history.

Politicians from across the spectrum in France were quick to express their shock and condemned the incident.

France's interior minister has condemned the desecration of a prominent Jewish grave plaque near Paris by unknown vandals as "cowardly and odious."

France's leading Jewish group the CRIF said that this latest event highlights the country's persistent anti-Semitism.

The plaque was placed in the park in 2011 in memory of Ilan Halimi, who was kidnapped at the age of 24 and cruelly tortured for three weeks by the "gang of barbarians," led by Youssouf Fofana.

The Gang of Barbarians, a French criminal gang whose members were predominately French-born children of Muslim immigrants, kidnapped Halimi because they believed that "the Jews are rich," calling his middle class family in demand of exorbitantly large sums of money on several occasions.

They even called a local rabbi, claiming that he was "a representative of the Jewish community that should provide the ransom."

Halimi was found dying near the railroad tracks south of a construction town and perished on his way to the hospital.

Fofana was sentenced to life imprisonment for orchestrating Halimi's kidnapping and ransoming.

Halimi was reburied in Israel in 2007.