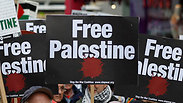 Demonstration in London
Photo: Reuters
LONDON - Some 5,000 people participated in a protest march against Israel on Saturday afternoon on the streets of London.

The march, which began near the American embassy, ended outside the British Parliament building at the Palace of Westminster.

Anti-Israel protesters in London

The demonstrators protested against Prime Minister Benjamin Netanyahu's visit to the capital, who arrived in London on Thursday and is expected to remain in the city until Sunday.

Netanyahu arrived in London to mark 100 years to the Balfour Declaration at a special banquet hosted by descendants of Balfour and the recipient of his declaration, Jewish community leader Walter Rothschild, in the gilded halls of Lancaster House mansion.

The demonstrators protested against the centennial celebration, holding signs declaring the British declaration has led to the "Palestinian disaster."

The demonstration was relatively quiet. Unlike similar demonstrations in London in the past, there were no Hezbollah flags on display. Many of the protesters are supporters of Labour leader Jeremy Corbyn and opted instead for Palestinian flags.

Nevertheless, the demonstration was still considered a success as it drew a fairly large crowd compared to other anti-Israel protests held in the British capital in recent years, which only drew several hundreds of people.

Demonstration organizers claim this was the largest anti-Israel protest in London since the 2014 Operation Protective Edge in Gaza.