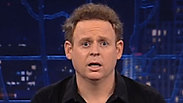 Lior Schleien
Photo: Channel Ten
Three Israelis featured at first Obama Foundation Summit
Among the 150 influential and promising leaders from around the world handpicked by the Obama Foundation were comedian and TV personality Lior Schleien, Peres Center for Peace Deputy Director General Yarden Leal-Yablonka, and the founder of CyberX Omer Schneider
Three Israelis were among the 150 influential and promising leaders from around the world featured at the first Obama Foundation Summit on Thursday evening.

The Israelis, who were handpicked by the Obama Foundations, are comedian and TV personality Lior Schleien, Peres Center for Peace Deputy Director General Yarden Leal-Yablonka, and cyber security expert and founder of CyberX Omer Schneider.

The guests of honor at the event were Prince Harry, actress Rashida Jones, actor and creator Lin-Manuel Miranda, former US National Security Advisor Susan Rice, and former Italian Prime Minister Matteo Renzi.

Former US President Barack Obama encouraged participants to forego selfies and instead focus on creating interpersonal relationships, so they could work together to improve life on Earth.

Over the past decade, Yarden Leal-Yablonka, 37, has been leading many projects on coexistence in education, sports, medicine, innovation and entrepreneurship, and has been representing the Peres Center for Peace all over the world.

"It is a great honor to represent the vision and work of the Peres Center for Peace and Innovation, which has been my home for the past 13 years," said Leal-Yablonka. "I'm happy and thankful for the opportunity to represent Israel and Peres's legacy. Learning together with representatives from all over the world could bolster our work to building a better future."