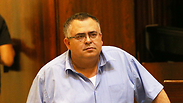 David Bitan
Photo: Ohad Zwigenberg
Coalition Chairman MK David Bitan (Likud) is working on an alternative bill proposal in the wake of strong objections from coalition partners Bayit Yehudi and Kulanu to legislation seeking to shield a sitting prime minister from police investigation—also known as the French bill.

With the new bill proposal, Bitan seeks to roll back an amendment to the law that grants immunity to members of Knesset.

The law initially provided every MK with automatic immunity from prosecution, but a 2005 amendment revoked the automatic immunity and determined an MK being charged with a criminal offense must ask the Knesset's House Committee to instate his immunity.

If the amendment is rolled back, every MK—including the prime minister—would enjoy automatic immunity again. The attorney general would then have to persuade the Knesset's House Committee to revoke the suspect's immunity.

In practice, it would be the MKs, and particularly members of the coalition who enjoy a built-in majority in the House Committee, who would decide whether an indictment is filed.

Bitan has already met with Justice Minister Ayelet Shaked, getting a green light from her to promote the alternative immunity bill.

One aspect of the proposed legislation Shaked has yet to agree to is a clause determining a supermajority—two thirds—will be required in the House Committee to revoke the immunity of an MK or the prime minister.

"I am formulating an alternative bill that is good and proportional," Bitan told Yedioth Ahronoth. "Unlike the French bill, this legislation does not constitute an amendment to a Basic Law, so it will definitely be acceptable to our coalition partners."