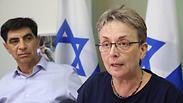 Simcha and Leah Goldin
Photo: Motti Kimchi
The High Court of Justice is expected to reject out of hand a petition against the Israeli government by the family of Lt. Hadar Goldin, who was killed in the 2014 Operation Protective Edge and whose body has been held by Hamas in Gaza since.

In their petition, Goldin's parents demand to bar the government from handing over the bodies of Hamas terrorists back to the organization, to revoke visitation rights from all Hamas prisoners in Israel and to reduce the number of entry visas for humanitarian purposes granted to Gaza residents.

Earlier this year, the Security Cabinet formulated several decisions meant to put pressure on Hamas to return the bodies of Goldin and Sgt. Oron Shaul, as well as two living Israeli citizens—Abera Mengistu and Hisham al-Sayed—who crossed the border into Gaza and are believed to be held by Hamas.

The Goldin family's petition is based on that Cabinet decision, with Simcha Goldin, the soldier's father, claiming that the government "hasn't the slightest inclination to implement the Cabinet's decisions," adding "The government of Israel has capitulated to Hamas."

However, apart from very rare and unusual cases, the High Court does not interfere in government considerations, particularly when it comes to negotiations over prisoner exchanges and the return of bodies.

Similar petitions filed in the past against prisoner exchange deals were all rejected. Petitions both from the right-wing and the left-wing were filed against the release of terrorists, agreements between the government and other governments or foreign bodies, the return of bodies and prisoner exchanges.

The petitions were all rejected on the basis of "institutional nonjusticiability."