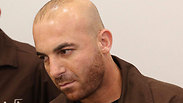 Muhammad Zafran
Photo: Motti Kimchi
Palestinian steals truck to carry out terror attack
Muhammad Zafran planned to ram truck into soldiers waiting at bus stop outside IDF base in central Israel, but was caught by police while attempting to steal the truck; he admitted to seeking 'revenge' against Israel for its conduct on the Temple Mount.
A Palestinian who stole a truck and planned to use it to run over IDF soldiers was charged Monday with preparing to commit murder as an act of terrorism.

Muhammad Zafran, 40, from Ramallah was also indicted for endangering human lives on a public transportat lane, vehicle theft, entering and staying in Israel illegally, driving without a driver's license and other offenses.

According to the indictment, Zafran entered Israel illegally last month in order to carry out a nationalistically-motivated attack.

On October 19, 2017, Zafran broke into a truck that belongs to a business in Holon using a pipe wrench.

An employee who noticed him in the act started running toward the truck. Upon noticing the employee, Zafran drove in his direction, nearly hitting him.

Upon failing to do so, Zafran kept driving toward a nearby IDF base.

The employee reported the theft to the police, which pursued the stolen truck.

In an effort to evade the police, Zafran sped and drove wildly on the road, risking drivers in his vicinity.

When police closed in on him and ordered him to stop, he rammed the truck into the police car, pushing it against the safety railing and bringing it to a stop.

Zafran, according to the indictment, then continued driving toward Rishon Lezion, ran a red light at an intersection and collided with other vehicles.

He eventually had to stop due to faulty operation of the truck and was caught by police.

In his interrogation, he repeatedly stated he belongs to the Fatah organization, and that he wished to become a martyr.

He admitted to planning to run over soldiers waiting at a bus stop outside an IDF base as "revenge" for Israel's conduct on the Temple Mount.

A prisoner who shared a cell with Zafran said the latter told him he wanted to kill Jews.