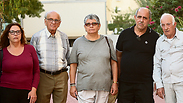 Several of the evacuated Ganim-Kadoim settlers intent on suing for additional compensation
Not just Gush Katif: Settlers sue state for compensation
Residents from West Bank-evacuated settlements Ganim and Kadim demand the same compensation as those evacuated from Gush Katif; 'We lost entire plots and got an apartment in Afula,' says former settler; Agriculture Min. responds by saying, 'They were fully compensated.'
12 years after being evacuated from the North Samaria Regional Council settlements of Kadim and Ganim in the West Bank, dozens of former settler families are planning on suing the state for discrimination regarding the compensation they received, when compared to the compensations received by settlers who were evacuated from the South Gaza settlement bloc of Gush Katif.

The families have already addressed their complaints to Agriculture Minister Uri Ariel, who is charged with seeing to the settlers' compensation packages.

The settlers who lived in Ganim and Kadim had led a secular lifestyle and mostly made a living in the northern city of Afula and Mt. Gilboa, as well as the surrounding area. Hundreds of settlers lived in both settlements before their evacuation, though their numbers dropped following a series of altercations with members of the Arab community.




At the time of the evacuation, roughly 80 families lived in both settlements, which are currently demanding to receive additional compensation to the money they have akready received.

"I've felt deprived for all these years," said Ilan Amar, who was evacuated from Kadim. "We've felt threatened and deprived. We were given an ultimatum. We knew that if we wouldn't leave on time, we would get fined.

"Today, though, I'm ready for battle. For 12 years I've been walking arounf with this harsh feeling of disenfranchisement, of being the step-children of the disengagement. They discriminated between us and Gush Katif."

Gabi Barsheshet, who was evacuated from Ganim, somewhat broke down their demands. "I needed to add money to buy an apartment in Afula. I had a private house (in Ganim—ed), and I got instead a sixth-floor apartment in Afula, for which I needed to take out another mortgage.

"I haven't been able to rehabilitate myself since the evacuation," continued Barsheshet. "As far as I know, the settlers of Gush Katif got 50 percent more than we did."

The Agriculture Ministry responded to their claims by saying, "All the settlers received full compensation in accordance to the law implementing the 2005 disengagement plan." the ministry added that "their demands are incongruent to the law and as such has been rejected."