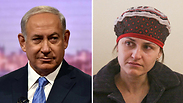 Netanyahu and Adva Biton
Photo: Reuters, Ido Erez
Bereaved mother tells Netanyahu: 'What are you waiting for, the next disaster?'
Settlers who lost their loved ones in terror attacks on West Bank roads urge PM to transfer promised funds to improve infrastructure; 'We're driving on roads across Judea and Samaria without proper lighting, without cell reception,' says mother of Adele Biton.
Settlers who lost loved ones in terror attacks in the West Bank showed up at the Likud Party meeting on Monday to urge Prime Minister Benjamin Netanyahu to transfer funds to improve the infrastructure in the area in an effort to prevent future deadly terror attacks.

"My name is Adva Biton, mother of Adele Biton. I buried my daughter at age four and eight months. What are you waiting for, the next disaster?" the distraught mother told Netanyahu.

Adele Biton was critically hurt in March 2013 when a truck driver unexpectedly hit the brakes after his vehicle was struck by stones hurled by Palestinians. The car behind him, carrying Adele, her two sisters and their mother, lost control and collided with the truck. The two other sisters, Avigail and Naama sustained moderate injuries. Adele passed away two years later as a result of complications from her injury.

"We're dealing with the pain and loss every day," Biton told Netanyahu. "Every day, we're driving on roads across Judea and Samaria without proper lighting, without cell reception. (Government) representatives come to console us. Everyone is showing empathy. You're all being sincere. But we're tired of this. We want actual decisions, budgets allocated. The citizens in Judea and Samaria deserve a decision."

Hadas Mizrahi, whose husband Baruch Mizrahi was murdered in a shooting attack near Hebron on Seder night three years ago, shared her story with Netanyahu and the other Likud MKs.

"I waited out there for 20 minutes because the (cell) network went down. Twenty minutes with no lighting," she said. "I've been going through this hell for three and a half years, we're being forgotten."

Even before the bereaved families aired their grievances, Netanyahu told the Likud Party meeting he had met with Finance Minister Moshe Kahlon and the two decided to immediately transfer NIS 200 million to improve infrastructure and security in the West Bank.

This would be the first installment out of a total of NIS 800 million earmarked for the construction of roads bypassing Palestinian villages, the improvement of cellular reception and other security measures. Netanyahu said the additional NIS 600 million will be allocated as part of the 2019 budget.

"We have an obligation to solve and assist in resolving the bypass roads problem in Judea and Samaria, including the lighting problem and other issues," Netanyahu said. "We're not just talking, we're doing. Our actions are consistent, systematic and determined."
'We're tired of being second class citizens'
Earlier in the day, coalition MKs Oren Hazan (Likud), Miki Zohar (Likud) and Bezalel Smotrich (Bayit Yehudi) decided to boycott votes at the Knesset's Finance Committee until the funds are transferred for the security measures.
Samaria Regional Council head Yossi Dagan and the bereaved families showed up at the committee meeting, declaring: "We will no longer be second class citizens."
"I held the Henkin children with these hands when their parents were murdered on a road that still has no lighting or cell reception," Dagan told the committee. "We don't want to evacuate bodies as we did those of the Fogel family in Itamar. It's been years since the murder, and there are still no security measures there."
Hadas Mizrahi, who has been staying at the protest tent outside the Prime Minister's Residence for two weeks and began a hunger strike on Sunday, admonished the MKs at the committee.
"I've been left alone with four orphans. This is an attack you could have prevented! Don't close your eyes to this," she said. "So far, I've heard promises from the prime minister, from MKs at the shiva (Jewish mourning period), at funerals I go to. We're tired of hearing promises. If there had been reception, if there had been lighting on the road, maybe Baruch would've been saved."
Adva Biton also bemoaned the situation, telling MKs: "We're tired of being second class for everything. We don't deserve anything by law. Roads, infrastructure, security for the communities. Why do we have to beg for basic things?"