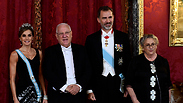 Rivlin and his wife with Spain's king and queen
Photo: AP
Rivlin expresses strong support of united Spain amid Catalonia crisis
'Spain for us is one country, and His Majesty the King is the symbol of that unity,' the president says during state dinner in Madrid. 'All of the citizens of Spain are dear to us, and we hope and pray that all conflicts will be solved by peaceful measures.'
President Reuven Rivlin expressed his categorical support of a united Spain during a state dinner hosted by King Flipe VI and Queen Letizia at the Royal Palace in Madrid on Monday evening.

"Spain for us is one country, and His Majesty the King is the symbol of that unity. All of the citizens of Spain are dear to us, and we hope and pray that all conflicts will be solved by peaceful measures," Rivlin said.

Israel's first official response to the crisis in the region of Catalonia came after a month of silence, with the Foreign Ministry failing to condemn Catalonia's declaration of independence from Spain as Madrid had demanded.

"Israel and Spain share longstanding, strong and friendly relations, rooted in our common historical heritage and shared democratic values. Israel hopes that the internal crisis in Spain will be resolved quickly and peacefully and through broad national consensus," the statement said.

President Rivlin, his wife and Spain's king and queen greet guests (צילום: לע"מ)

The Spanish King Felipe VI welcomed the guests at the state dinner in Hebrew, saying "Bruchim Habaim" and spoke of the close ties between Spain and Israel.

"We recognize Israel's legitimate aspirations for peace and security, and hope your country will live in harmony with its neighbors and develop its ties with the European Union. Israel will find in Spain a partner, an ally, a faithful and committed friend," the king said.

In his own remarks, President Rivlin spoke of the Sephardic heritage he experienced while growing up. "The memories that are ingrained in me were always Israeli, Jerusalemite, and Spanish at the same time," he said.

"And I am not unique in this way. Spain represents roots, Spain is both a beloved and painful memory. To visit here, is like a visit home. As His Majesty your father said in his historic speech, 'Spain is not nostalgia but a home, a place where it should not need to be said that Jews should feel at home'. Spain is a cornerstone of our identity and precisely because of this it is forbidden for Spain to represent only the past, heritage, and nostalgia. The alliance between Israel and Spain must be an alliance of the present, an alliance of the future," Rivlin continued.

The president also reminisced about King Felipe VI and Queen Letizia's visit to Israel in 2011, before the king ascended to the throne.

"Some years afterward, you signed the national law enabling Jews of Spanish origin to apply for Spanish citizenship. In doing so, you expressed your appreciation for one of the important bridges between Israel and Spain, this is the Jewish community of Spain today," Rivlin told the king.

"In the now 31 years of our diplomatic relations, strong and broad bilateral relations have been established, encompassing a wide range of fields, from tourism and trade, through to science and culture, security and policing," the Israeli president said.

"Our current visit is an expression of our mutual commitment to the strong ties between our countries. Together with us is an extensive business delegation composed of leading Israeli companies boasting advanced technologies, technologies aimed at improving the world, and they see Spain as an important and friendly market. We also intend to sign new cooperation agreements with your prime minister," he continued.

"I see the great potential for growth in our cooperation, and it is so important to deepen the connections that will lead to productive partnerships," Rivlin added, and finished by quoting in Ladino: "Our common path has a glorious past, and a future that can be as exciting, fascinating, and glorious. May God grant us life so that we may see wonders."

King Felipe VI spoke of the tradition linking the two nations. "The tradition that binds us to each other is greater than us in its depth and meaning. This is the legacy of the Jews of Spain, which represents the Golden Age of Jewish culture, a culture that has been preserved for hundreds of years in the language and customs of so many Sephardic Jews throughout the world," he said.

"Our democratic Spain, founded on a heritage of cultural diversity, is today returning to its historical ties with the Jewish people. In this regard, we will never forget the festive ceremony at the Royal Palace in which we stand today, two years ago, on the occasion of the approval of the law granting Spanish citizenship to Jews of Spanish origin, and the renewed historical meeting that resulted from it. As I said then, 'how I missed you,' the Jewish-Spanish people, the Jewish people our friends," the king added.

King Felipe also talked about Spain's fight against anti-Semitism. "I proudly stress the position of Spain at the forefront of the fight against anti-Semitism, which includes important public diplomacy initiatives such as the Spain-Israel Center, important political achievements such as 'Holocaust Remembrance and the Prevention of Crimes against Humanity Day' marked annually, and similarly, the emphasis of education about Jewish issues, and legislative achievements such as the legal definition of hate crime," he said.