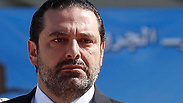 Resigning Lebanese Prime Minister Saad al-Hariri
Photo: AP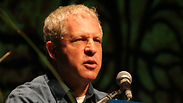 Major-General (res.) Giora Eiland
Photo: Ofer Amram
Lebanon's last chance to save itself
Op-ed: Hariri's resignation and his harsh words against Iran create an opportunity to try to change the reality in the country before Iran and Hezbollah complete their takeover. This requires both international pressure and brave Lebanese decisions, as well as indirect Israeli action.
Lebanese Prime Minister Saad al-Hariri's resignation and his harsh words against Iran create an opportunity to try to change the reality in our northern neighboring country. I'm not talking about a military intervention, like the one Israel attempted in 1982, but about the creation of an international coalition that would pressure the Lebanese president to change the situation in his country.

After the 2005 assassination of then-Lebanese Prime Minister Rafik al-Hariri, the resigning prime minister's father, an international coalition demanded that the Syrians withdraw their forces from Lebanon. In a discussion held by then-Prime Minister Ariel Sharon, the participants were of the opinion that the international initiative matched the Israeli interest, but as head of the National Security Council, I believed that the Syrian pullout from Lebanon would actually strengthen the more dangerous Iranian influence.

Eventually, a new coalition was established by Saudi Arabia, France and the United States—the countries which currently have an interest and the ability to influence the situation in Lebanon—and following the coordinated pressure, which received the United Nations' backing, Syria rushed to pull its divisions out of Lebanon.

This time, the pressure should be directed at Lebanon's Christian president, Michel Aoun, who is helping Iran take over his country and has declared that Hezbollah is Lebanon's "defensive force." In saying that, he basically took responsibility for all of Hezbollah's actions and implicitly admitted that the organization has the power to dictate the country's security-related agenda.

Instead of trying to convince Britain to support an amendment of the nuclear agreement with Iran, as Prime Minister Benjamin Netanyahu did during his recent visit to London (a futile effort which won't succeed), the spotlight should be turned towards the Iranian activity in Syria and now in Lebanon. The diplomatic efforts should be focused on getting the international community to demand that the Lebanese president, the Lebanese parliament and the Lebanese people make a decision: Either they want to be considered a sovereign state or they accept Iran's control over them, through Hezbollah.

If they choose the first option, it should be translated—at least in the first stage—into three commitments on their part: One, a demand that Iran will withdraw its forces, including the Revolutionary Guards, from the country; two, a demand for a Hezbollah commitment to act only according to the instructions of Lebanon's legal government; and three, a declaration that the Lebanese government is responsible for maintaining the calm on the Israeli border.

Allegedly, these are only words, but the situation is actually different: Lebanon has a chance, perhaps its last chance, to free itself from Iran's grasp. And this requires brave decisions. If the Lebanese president refuses, it could be seen as an admission that he would continue groveling to Iran and Hezbollah until they complete their takeover of Lebanon.

An important component here is NATO. The demand from Lebanon must be coupled with a commitment from the organization's member states to provide Lebanon with military aid in case Hezbollah resists. The West hesitated in Iraq and in Syria, and as a result, those two countries basically "fell" into Iran's hands. If we want to prevent a complete Iranian siege in the region, Lebanon's fall must be prevented.

Does US President Donald Trump, unlike his predecessor, know how to commit and use force? These may be critical times. We cannot expect a brave Lebanese act without the West's support, and we cannot expect an American initiative without a request from Lebanon's legal government. Only a combination of these things could lead to success.

And what about Israel? We cannot intervene directly. When we tried it in 1982, we were dragged unnecessarily into the Lebanese mud. But there are two things Israel can do: First, it can try to convince the Western countries to be proactive in Lebanon according to the outline I just presented; second, it can reclarify that as long as the Lebanese president, government and army prefer to serve Iran, it would have a dramatic influence on the "third Lebanon war." If and when that war breaks out, Israel would not fight Hezbollah—it would fight its patron, the state of Lebanon.

Major-General (res.) Giora Eiland is a former head of Israel's National Security Council.