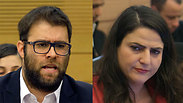 Hazan and Biran
Photos: Yoav Dudkevitch, Ohad Zwigenberg
MK Biran calls MK Hazan a 'pimp,' he implies she's a prostitute
After controversial Likud MK interrupts a fellow lawmaker, MK Biran leaps to her aid, alluding to Hazan's past as a manager of a casino in Burgas, where he allegedly supplied high-rolling guests with prostitutes; responding in kind, Hazan asks the Zionist Union legislator 'Do you want to fill out a job form? No one would look at you anyway.'
Likud MK Oren Hazan got into yet another exchange of insults at the Knesset on Tuesday, this time with Zionist Union MK Michal Biran, with her calling him a "pimp" and him making the implication she was a prostitute.

The Knesset's Finance Committee was discussing a legislation proposal that would obligate the KKL-JNF to give 80 percent of its earnings to the state.

During the discussion, Hazan interrupted Kulanu MK Rachel Azaria, calling out "I'd teach you a few things."

Opposition member Biran decided to interfere, telling Hazan that Azaria "would do just fine without the skills of managing a casino in Burgas."

Biran was referring to a Channel 2 News exposé that claimed that while Hazan was managing a casino in Burgas, Bulgaria, he supplied high-rolling guests with prostitutes and used hard drugs.

"I wouldn't let you be a dealer," Hazan responded.

"Pimp, it's a disgrace you're in the Knesset," Biran said.

"Do you want to fill out a job form? No one would look at you anyway," the Likud MK shot back.

Azaria and fellow Kulanu MK Merav Ben-Ari asked Finance Committee Chairman MK Moshe Gafni (United Torah Judaism) to have Hazan removed from the room.

Hazan later filed a complaint with the Knesset's Ethics Committee against Biran for calling him a "pimp."

Biran also filed a complaint with the Ethics Committee, saying the "belittling and sexist treatment by MK Hazan constitutes sexual harassments in all senses. I expect the committee to treat this incident severely and take the necessary steps to punish the Knesset member and deter against another such incident."

The government approved a self-sponsored bill proposal on Tuesday that would require Keren Kayemeth LeIsrael-Jewish National Fund (KKL-JNF) to hand over to the state 80 percent of its earnings every year to fund national infrastructure projects.

Ministers Uri Ariel and Haim Katz voted against the legislation, while Minister Ayelet Shaked abstained.

The bill then went to the Finance Committee for further discussion, where Bayit Yehudi MK Bezalel Smotrich criticized the government decision, accusing Finance Minister Kahlon of "eliminating KKL-JNF and mortgaging its earnings to his election (campaign)."

Smotrich asserted that the latest version of the bill "in practice nationalizes KKL-JNF and its earnings. It entirely subjects KKL-JNF to the tenders law and determines 80 percent of its earnings every year will go to the Treasury. The new bill even determines KKL-JNF's money would go directly into the state budget and not to national projects as was the case in the previous version."

The Bayit Yehudi MK threatened he would "do whatever is in my power to stop this madness."

Meanwhile, MK Dov Khenin (Joint List) called to "nationalize KKL-JNF."

In a Facebook post, Khenin asked: "Why do we need a private body that makes billions off public land, and close associates (of KKL-JNF leadership) go to town on it? Why do we need a company that makes billions and doesn't pay taxes? Why do we need a body that discriminates between Jewish and Arab citizens?"