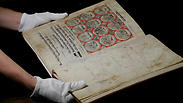 The Gunzburg collection
Photo: Reuters
Russian tycoon funds digitizing Jewish manuscript collection
Settling century-old dispute, Israeli National Library, Russian State Library reach agreement to digitize wealthy Jewish family's collection of 2,000 manuscripts, thousands of printed volumes rather than transfer it from Moscow to Jerusalem; Muslim Russian billionaire to fund digitization project, citing importance to 'whole cultural world.'
A Russian Muslim billionaire is funding an Israeli project to digitize a major collection of Jewish manuscripts seized by the Soviets a century ago and held by the Russian state library, Israeli officials said Tuesday.

On the 100th anniversary of Russia's October Revolution, Israel's National Library and the Russian State Library announced an agreement to digitize the Gunzburg collection's 2,000 manuscripts.

The project was made possible by an undisclosed "generous donation" from Russian oligarch Ziyavudin Magomedov's Peri Foundation.

The 49-year-old energy and shipping magnate is Russia's 58th-wealthiest person, with an estimated worth of $1.5 billion, according to Forbes. His foundation has financed heritage projects across Russia, particularly in his native Dagestan, a predominantly Muslim republic. But it has never undertaken a project of Jewish interest.

Magomedov said his organization has financed conservation efforts for Eastern Orthodox, Muslim, and now Jewish heritage projects.

"I think it's important for the whole cultural world, for preservation," he said, emphasizing the importance of "soft power" in the modern world.

The Russian State Library's Gunzburg collection includes over 2,000 manuscripts and thousands of printed volumes, including biblical texts, Talmuds, rabbinic interpretations, and philosophical treatises by Aristotle, Averroes, Maimonides, Al-Ghazali and others.

Baron David Gunzburg, a Jewish-Russian aristocrat, amassed one of the largest and most important collections of Jewish manuscripts before his death in 1910.

His wife agreed to sell the books to the forerunner of Israel's national library in Jerusalem in May 1917 for the princely sum of 500,000 rubles. The outbreak of the Russian Revolution prevented delivery of the books, which were seized by Soviet authorities and placed in Russia's state library.

"The collection was supposed to come to the national library a century ago," said David Blumberg, chairman of the National Library of Israel. "The Soviet revolution disrupted that matter. The Soviets nationalized the collection."

Since then, Soviet and Russian governments have refused to release the collection, despite diplomatic appeals by Zionist leaders and the Israeli government.

Once digitized, the Gunzburg collection's books will be available online at the National Library of Israel's digital manuscript archive, which was launched earlier this year.

Ze'ev Elkin, Israel's minister of Jerusalem Affairs and Heritage, said the agreement was a small amount of "historical justice," despite the fact that the manuscripts will remain in Moscow.

"We are dreaming about it, but even this stage is very important for us," he said.