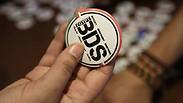 Who's afraid of the BDS? Meet the people on the frontline
When the BDS movement intensified its efforts to ostracize Israel in all spheres of private and public life, a number of organizations, comprising academics and IDF veterans, made it their mission to tackle the phenomenon head on and deploy new forces, adopt fresh strategies, and exploit untapped advantages to counter the international smear campaign.
Two-and-a-half years ago the initials BDS (Boycott, Divestment, and Sanctions) meant little to the wider general public. But then the BDS coalition—established in 2005 and calling for the imposition of economic, academic and cultural boycotts on Israel—intensified its struggle, especially by exerting heavy pressure on music artists not to perform in Israel.

These new reinvigorated efforts caused the Israeli government to declare the BDS a strategic threat, prompting the Ministry of Strategic Affairs to launch a campaign against the coordinated boycotts.

Today, dozens of organizations are engaged in local and international battles to eliminate the erroneous and pernicious perceptions that the BDS movement seeks to instill within its supporters, among them IFOR (International Freedom of Research) ISRAELis, and the Institute for Zionist Strategies (IZS) that are leading the struggle against the boycotts on three fronts.
"The academic boycott threatens to silence liberal voices"
IFOR is the initiative by Dr. Sharona Aharoni-Goldenberg, a senior legal lecturer at the Netanya Academic College, who banded together with colleagues such as Dr. Roy Gilbar in order to fight against the academic boycotts in Europe and the US.

The initiative was born two-and-a-half years ago after Dr. Goldenberg witnessed the gloomy reality taking place regarding Israel's integration in the international academic world.

Their articles were rejected by magazines and periodicals, they were not invited to professional conferences and in many cases they were simply ignored or protested against during lectures and academic meetings.
Have such cases of academic boycotts occurred in history?
"Yes. It's a disgrace. There is a picture from 1933 in which soldiers can be seen placed at the entrances of universities and not allowing Jewish researchers to enter," she says.

Members of IFOR battle against the academic boycotts by utilizing tools they are most familiar with. They lecture in Israel and around the world, establish research groups an and write opinion pieces in the international press.

"We are trying to change the perception and communicate the message that academic boycotts are an oxymoron and that they are an assault on human rights," says Dr. Goldenberg.

"Recently, for instance, there were calls to boycott a conference in Israel for cancer research. This harms the pursuit of truth, the advancement science and promotion of society. Another example is the Dublin Conference on academic boycotts. Two Israeli research groups sent abstracts but were not allowed to enter the conference," she recalled.

According to Dr. Goldenberg, many of the Israeli researchers are afraid of the boycotts and conceal their academic affiliation. Israeli students studying abroad also witness the anti-Israel climate permeating college campuses.

"It seeped not only to Israeli lecturers and students but also to Jewish students. In the US there are students who are scared to study in certain universities—universities that the Telegraph newspaper dubbed 'no go zone' universities, because they were bought by Islamic organizations," Dr. Goldenberg explains.

"We see an effect I dubbed the 'ripple effect.' It started with silencing Israeli lecturers and continued into intimidating Israeli students and made its way to Jewish lecturers and students on campus. In my opinion, the next stage—and it has already begun—is the silencing of differing liberal voices," Dr. Goldenberg predicts.
Using post-military travels as a PR tool
ISRAELis is an organization that was established by three IDF officers, Eyal Biram, Barak Deri and Jonathan Sabrui, who after recently being discharged from their military service began to grasp the huge and untapped power held by young Israelis when it comes to portraying Israel's image.

Every year, some 400,000 Israeli youngsters aged 20-24 travel abroad, the majority of whom are freshly discharged from the army. During their trip they get to know, on average, five fellow travelers of their age group, a meeting that has the potential to totally transform Israel's image.

"The idea is to build a community of discharged soldiers who are involved in improving Israel's public image," says 25-year-old Biram, recounting his own experiences during his post-military travels which led to the creation of his organization.

"I met two French people and in a simple conversation over a beer in the hostel I managed to convey a simple message: What you have heard about Israel is simply not true. I told them that I served in Gaza during Operation Protective Edge. They had never heard of the tunnels or about the soldiers who were killed. It's possible that those same French people went home and came across the issues of the BDS and remembered that they met with Eyal from Israel and described the situation differently," Biram says.

Today, the three young entrepreneurs hold training workshops in three stages in cooperation with the Defense Ministry and the Institute of Public Diplomacy.

The first stage includes basic training as part of a preparation course for freshly discharged IDF soldiers, who are given the tools to communicate messages designed to enhance Israel's image.

The second phase consists of training a patrol team of activists comprising ambassadors aptly nicknamed "the tourists" who possess stronger public relations tools. The third stage, which is currently in its development stage, is a digital platform designed to assist and support tourists during their travels after the army.

"Nothing exists to help the population of discharged soldiers and we have here the ability to create a significant change. We have 1,500 graduates and we predict that by the end of 2017 we'll have 40,000. At this rate, in another ten years half a million Israelis will be Israeli ambassadors," Biram predicted.
Change begins from the inside
Unlike ISRAELis, which concentrates most of its efforts on public relations outside Israel, the Institute for Zionist Strategies focuses all its energy inside Israel's borders.

The institute was born 12 years ago, and five years ago, as part of its framework, the "Blue & White Human Rights" offshoot movement was created, an apolitical group managed by Noah Dromi which deals predominantly with rights of Palestinians.

"We don't say that everything is wonderful and nothing is happening here," explains the CEO of the IZS, Miri Shalem.

"We also don't show a negative reality. IDF soldiers are not evil demons and even if the Palestinians don't have a state, not everything is bad. Some of them work inside Israel and receive a high salary compared to what they would receive in the PA. They also receive medical treatment," she points out.

The activities of the IZS against the BDS movement focus on three central areas. The first one is volunteer work at checkpoints in the West Bank (most of the volunteers are residents of Gush Etzion), which includes monitoring the operations of workers at the checkpoints, solving specific problems and providing medical assistance.

"All this is in cooperation with the authorities and without the involvement of the media," Shalem stresses.

The second main area of focus is patrols at the checkpoints, which receives particular scrutiny from organizations abroad.

The third area is the training of geopolitical tour guides, a particularly popular role in the West Bank but less so in Israel.

"We don't present a rosy picture, but rather the complex reality that will cause people to question anchored perceptions in their minds.

"Sometimes when delegations arrive to Israel, like Taglit, they are given tours that ignore the reality—they are shown the startup nation and the beaches of Tel Aviv. Our activities are designed to create a change in Israeli domestic discourse that will also spreads abroad. It allows for a different perspective on the conflict."

In collaboration with the Ministry of Strategic Affairs.