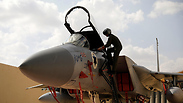 Jet taking part in Blue Flag
Photo: AFP
The largest seen aerial exercise in Israel began on Thursday and is to continue for the next two weeks. 1,000 highly-trained fighter pilots from eight different countries opened the "Blue Flag" exercise, which includes roughly 100 of fighter jets, helicopters and unmanned aerial vehicles (UAVs). It is the most immense military drill to take place so far this year.

This is the third time Israel has hosted the exercise, which takes place once every two years. In addition to Israel, this year it included teams from Greece, India, the US, Germany, Poland, France and Italy.

During the drill, Israeli F-15 and F-16 jets will come up against German Eurofighters and French Mirage jets.

Largest international aerial exercise takes place in Israel (צילום: רועי עידן, דובר צה"ל, עורך: בן שכטר)

Most of the jets are kept in the southern Ovda airport, with the soldiers themselves staying in hotels located in the coastal city of Eilat.

The drill will include about 100 daily aerial excursions and roughly 1,000 flights in total. Pilot will communicate with one another in English, in accordance with NATO security protocol.
Measuring up to fellow soldiers
"It's interesting to see different approaches to solving the same problem," said a high-ranking IAF officer. "This is an international event that is strategically important to Israel. We've matched each country with the scenarios that interest it.

"It's quite an experience to see the Eurofighter maneuver and lock in on its targets," he added. "It the closest to war we can get in an exercise, under a policy of openness that includes dilemmas over what to reveal and what not reveal to our guests. You get to see your level as a pilot and as a soldier when compared to others."

"What's really interesting to see during the exercise itself is how each country brings its culture into the exercise," added Cpt. Noam, from the Israeli Air Force. "Some are more precise and 'strict,' let's call it that, when it comes to punctuality, while others in charge have more of the Israeli creative thinking mentality, with a little more flexibility." He further stated that "what's really fun to see is how each country brings its own colors to the exercise itself."
The culmination of a year's training
Each country will be paying its way in the exercise. Preparations for the drill lasted for a year and constitute the apex of the IAF's training over the past two years.

The exercise is comprised of several generic scenarios that do not identify a specific enemy, though each pilot was given an Arabic name, as well as intel they must use to overtake the enemy.

The scenarios to in the drill range from classic head-on aerial attacks, to dropping ammunition, facing UAVs, evading anti-aircraft systems and attacking them.

The team managing the drill decided that both the "blue" alliance and the "red" alliance will include an imaginary country, with the blue team including the nation of "Falcon Land" and the red including "No War Land." Each of these countries were given their own weapons and soldiers whose aim is to target and take down enemy jets, while protecting their own forces and technology.

This is the first time that German Air Force fighter jets fly above the State of Israel, and the first time that Germany—as well as France and India—take part in the international exercise. Ovda Commander, Col. Itamar, whose grandparents are Holocaust survivors, spoke during the exercise's opening remarks, in addition to German Air Force Maj. Boomer, who spoke in Hebrew.