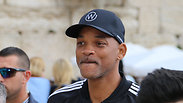 Will Smith
Photo: The Western Wall Heritage Foundation
Worshipers at the Western Wall plaza on Thursday were amazed to see Hollywood star Will Smith, 49, admiring the holy site after arriving in Israel for a unannounced and surprising visit that lasted only four hours.

Smith landed in Israel after finishing shooting for his role as the Genie in the upcoming live-action version of "Aladdin," one of Disney's biggest productions. The filming took place in London, but in the past ten days the production has been filmed in Jordan.

Smith and his son Jaden strengthened their ties with Israel recently when they founded a company called Just Goods Inc., which offers fair trade, US made, recycled and green products, such as water in eco-friendly recyclable cartons, and hired Israeli Ira Laufer to head it.

"Will enjoyed it when he was in Israel a year and a half ago," said Laufer, adding: "He wanted to go back together with the production crew and his eldest son Ace (Trey Smith) to visit the holy sites."

Among investors in the new company are quite a few prominent figures, including Queen Latifah, Tiger Woods, DJ Calvin Harris, Lionel Richie and others.

"Even the investors were swept by the idea. Not necessarily because they expect to see a return on their investment, but because they realized he was really doing something important."

The Israeli connection was further expanded last week, when the company's products were re-launched in a unique program led by PlayGround, whose founder is Israel-born Guy Poreh, one of the world's most prominent figures in advertising.

"It wasn't a given that we would be privileged to work with such a company, such people and on such an important and great mission," Poreh said. "I would like to believe that a lot behind our choosing stemmed from our ability as Israelis to make things happen against all odds, especially here in the US, and we plan to do it big."