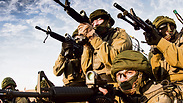 Dozens of veterans of combat units and elite patrols from the Jordan Valley established, together with the IDF, a new unit that is supposed to provide the first response to any terror incident in the area.

The need for the new unit, which received the acronym RRU—Rapid Response Unit, increased following the expansion of the Jordan Valley's border, which now stretches over 250 kilometers.

Members of the RRU—salaried employees and self-employed persons who work in a variety of professions, including hi-tech, tourism, agriculture, etc., all graduates of the IDF combat service—identified the security gap.

Following their request to the IDF, the idea of establishing a unit deployed throughout the sector was born in order to provide a quick response to any event.

The person who was recruited to build the unit is Command Sergeant Major (res.) D, who took part in the construction of several elite units, including the IDF's Duvdevan Unit and the Israeli Prison Service's Metzada unit.

"Almost a year after it was decided to establish it, it can be said that the unit is on its feet," said D., who was also appointed commander of the unit. "We trained in counter-terrorism, shooting and weapon usage. The guys are ready."

In the past year, as part of the unit's readiness, its members have held many days of reserve duty—often four days in a row each month—and practiced raids on schools and public buildings, while taking over hostage-holding terrorists.

The unit, which on Tuesday completed its final exercise and became operational, is on standby 24 hours a day and is suited to terrorist threats as analyzed by intelligence personnel in the IDF.

"The strengthening of Palestinian Islamic Jihad on the northern border is not hidden from us, and we are constantly taking steps to provide a proper response to the next threat," a senior security source said Tuesday, stressing its importance by adding that terrorist cells from Jordan could enter Jordan Valley settlements and perform devastating terror attack with dozens left dead.

"The unit's goal is to get to the scene as soon as possible and give an immediate response," D. summarized. "In order to overcome the problem of the vastness of the area, the unit was built from the residents of the settlements in an informed manner and was divided into teams according to the residential areas.

"That's why we can reach any event in this area within minutes. These guys came to this unit out of a sense of mission. They enlisted for a national mission, to maintain security in their area."