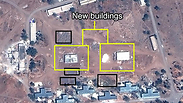 Satellite footage shown by the BBC
Photo: Digital Globe, McKenze intelligence Services
British news broadcasting corporation BBC published on Friday satellite footage allegedly showing continued construction work on permanent structures in Syria, built for the Iran army between January and October. The site, which includes over 20 buildings presumably to be used for soldiers' housing and storing military vehicles, is located 50km from the Golan Heights.

While it has not been definitively determined that Iran's military is the one behind the buildings' construction, one source told the network that high-ranking Iranian army officials have visited the site in the past few weeks.

According to the BBC, over the past few months several new buildings have been constructed there, while others have been renovated. It is unclear whether it is being currently manned.

Israel has repeatedly warned against Iran's growing influence in Syria, noting that its end goal seems to be establishing a continuous land route that would stretch as close as possible to the Israeli border.

Over the past four years, dozens of attacks in Syria have been linked to Israel. In most case, it is believed that that Israel's intent was to prevent Lebanon-based terrorist group Hezbollah from attaining dangerous new weapons.

Hezbollah is allied both with Syrian despot Bashar al-Assad and Iran. Hezbollah leader Hassan Nasrallah stated on Friday that Iran's great foe, Saudi Arabia, has been pushing Israel to attack in Lebanon.

"Saudi Arabia asked Israel to attack Lebanon and was willing to pay billions for it. This isn't an opinion, it's fact-based intel," said Nasrallah. He added that the Lebanese should not fear that this will actually happen, as Israel is aware of the heavy price it would pay for such a move.

Nasrallah mentioned the Foreign Ministry's directive that Israeli embassies voice their support of the Saudi efforts against Hezbollah, as evidence that Israel and Saudi Arabia are working against the terror group. He also referred to the "Israeli assistance" given to the Syrian rebels fighting Assad and to Jabhat al-Nusra—a Syrian-based terror group linked to al-Qaeda.

"Israel is trying to bring on a war between brothers," said Nasrallah, before adding, "Israel shouldn't presume that we are afraid or confused. We are stronger today than ever before."