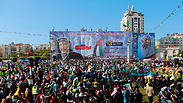 The Gaza Strip rally
Photo: AFP
Thousands attend Fatah's Arafat memorial rally in Gaza
Hamas allows Fatah to hold rally in Gaza Strip commemorating 13th anniversary of death of former leader Yasser Arafat, tens of thousands attend; in speech via satellite, Abbas reiterates future state must include Gaza, Fatah monopoly on security forces; Abbas warns abandonment of two-state solution will lead to one-state over entire 'historic Palestine' territory.
Tens of thousands of people congregated Saturday in the Gaza Strip for a Fatah show of force in honor of the 13th anniversary of the death of Yasser Arafat.

Unlike previous years, Hamas approved the mass rally, as a gesture of good will following the intra-Palestinian reconciliation agreement.

Palestinian President Mahmoud Abbas gave a speech at the rally via satellite in which he reiterated his position regarding the complete disarmament of the various military wings operating in Gaza.

"We'll remain steadfast to the principles we adopted when we started on this road under the leadership of President Yasser Arafat, until a Palestinian country is created with east Jerusalem as its capital," Abbas declared.

Footage of Fatah's mass rally in Gaza

"We'll continue executing the reconciliation agreement with the goal of achieving one state, one law and one legal security force. Allowing the government to administer its duties will lessen the suffering in the Gaza Strip. No one cares for our people more than us. There will not be a (Palestinian) state without Gaza, or a state only in Gaza," the Palestinian president vowed.





The Palestinian Authority chairman further wished it to be known Palestinians desire the culture of peace and combating the region's terrorism, but reiterated that should the two-state solution collapse, the Palestinian leadership will take up a single-state solution with full equal rights for its entire citizenry.




"We'll continue along with (President) Donald Trump's administration to reach a peace accord based on the Arab initiative and in the 1967 borders," Abbas affirmed.




"The two-state solution is in danger and if an agreement is off the table, we'll continue demanding equal rights for all of the residents of historic Palestine," Abbas said, repeating a notion previously expressed in a speech given at the United Nations General Assembly this past September.

The signs of spring in the Hamas-Fatah relationship were also evident in a more festive arena when former Hamas leader Khaled Mashal married off his son in Istanbul over the weekend.

The lavish wedding was attended by senior Fatah officials, including member of the organization's leadership Mohammad Shtayyeh and Chairman of the Palestinian Prisoners Club Qadura Fares. Abbas, for his part, had flowers sent to the event. The wedding was also attended by Egyptian Sheikh Yusuf al-Qaradawi, one of the world's most influential Islamic clerics.