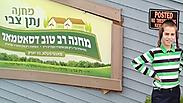 Boy in Satmar summer camp in NY
Satmar Hasidic group founds new NY town
Ultra-Orthodox Satmar Hasidic group initiates vote in Monroe, NY on breaking off, creating new independent town of Palm Tree; motion passes with 84% of voters in favor; new town will append thousands of miles from adjacent neighborhoods, be obliged to supply all municipal services including policing, fire fighting, tax collecting.
The residents of Monroe, New York decided Kiryas Joel, the village within Monroe comprising the seat of the ultra-Orthodox Satmar Hasidic group, will break off and become a town unto its own called Palm Tree, effectively creating the United States' first Haredi town.
The village was originally named after the Hasidic group's first Grand Rebbe Joel Teitelbaum, and the town will also commemorate the late leader, this time using his last name of Teitelbaum, which is German for "date palm tree."
Enormous swaths of land to be appended to new town
The anti-Zionist Satmar group's founding rabbi founded his followers' first habitat some 45 years ago, after their original Brooklyn domicile proved insufficient, but also due to fears of external influencing swaying the closed-off Haredi community.

Now the township will be breaking off on its own, with 84 percent of Monroe's residents supporting the split in a referendum held this past Tuesday in the city.

As part of the new town's creation, thousands of miles will be appended to Palm Tree's municipal territory, to be taken from existing nearby neighborhoods.

Palm Tree's newfound independence will come with a price tag: the Haredi community will have to operate all attendant municipal services on its own, including garbage collection, policing, fire fighting and rescue services.

The Satmar group will also have to begin issuing building permits, oversee sanitation services, collect municipal taxes, income taxes and sales taxes and operate welfare services.