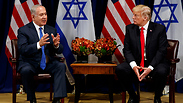 President Trump with PM Netanyahu
Photo: AP
Report: Trump preparing to announce Israel-Palestinian peace push
After months of US shuttle diplomacy, holding meetings with top regional leaders, Trump's Mid. East advisor Jason Greenblatt signals administration is gearing up to announce practical steps for ending intractable conflict; new plan expected to differ from previous US blueprints, but two-state solution still on cards, despite Trump's ambiguity; Greenblatt: 'Our goal is to facilitate, not dictate, a lasting peace agreement.'
US President Donald Trump and his Middle East advisors have begun to formulate the basic frameworks of a renewed peace initiative to the Israel-Palestinian conflict, according to a report in the New York Times.

The report states that the initiative is expected to differ from past US peace pushes as Trump seeks to achieve what he has repeatedly described as the "ultimate deal."

Since entering the White House in January, Trump has dispatched his main advisors Jason Greenblatt—along with his other special Middle East advisor and son-in-law Jared Kushner—to the region to acquaint themselves with the complexities of the conflict, shuttling between private meetings with top regional leaders to lay the groundwork for ending the seemingly intractable conflict.

According to White House officials, Trump and his team are now preparing to announce concrete steps they intend to take in a bid to achieve what has eluded all his predecessors.

While Trump has never explicitly endorsed the two-state solution that has served as the cornerstone of US policy since the inception of the conflict, the new plan is expected to address settlements and the future of Jerusalem and not necessarily stray too far from traditional US policies.

Nevertheless, Greenblatt insisted that while Washington aspires to achieve peace, an agreement would not be forced on the two warring parties.

"We have spent a lot of time listening to and engaging with the Israelis, Palestinians and key regional leaders over the past few months to help reach an enduring peace deal," said Greenblatt.

"We are not going to put an artificial timeline on the development or presentation of any specific ideas and will also never impose a deal. Our goal is to facilitate, not dictate, a lasting peace agreement to improve the lives of Israelis and Palestinians and security across the region."

In February, Trump said during a joint press conference in Washington with Prime Minister Benjamin Netanyahu that he would not be wedding his administration to conventional policies, but would be pursuing new ideas as long as both the Israelis and Palestinians could agree.

"I'm looking at two state and one state. And I like the one that both parties like," Trump said when asked whether he had abandoned the notion of a two-state solution.