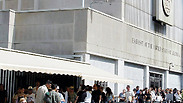 The American embassy in Tel Aviv
Israel, US closer to signing Visa Waiver Program deal
The two countries agree in principle to sign Preventing and Combating Serious Crime agreement, allowing US to query Israeli authorities on fingerprints found at scenes of major crimes to ascertain whether they belong to Israeli citizens, and to receive said Israelis' legal status; agreement stepping stone en-route to signing Visa Waiver Program deal with US.
Israeli government officials are optimistic the country's citizens will one day be spared the anguish of filling out countless questionnaires, undergoing an embassy interview and paying hundreds of shekels for a travel visa to the United States, on the aftermath of a recent breakthrough in US-Israeli negotiations on a Preventing and Combating Serious Crime (PCSC) agreement allowing American law enforcement authorities to request information about Israelis suspected of serious crimes.

The two parties are expected to sign the agreement in the coming weeks, which should open the way for Israel to join—within three to five years—the American Visa Waiver Program (VWP).

Attorney General Avichai Mandelblit and Deputy Attorney General for International Law Dr. Roy Schöndorf are to be credited for the breakthrough. The pair recently visited Washington, met with their Justice Department counterparts and reached an agreement ensuring flow of information to the US with minimal damage to Israelis' right to privacy.

The US has a similar agreement in place with 41 countries—including Germany, Britain, Australia and Japan—and it's considered to be a basic prerequisite for joining the VWP. According to the agreement, American law enforcement agencies may contact any of the countries party to the deal to query whether a fingerprint found at the site of a serious crime is present in their national database.

The undersigned countries are then obliged to provide the US with information on the legal status of the person the fingerprint belongs to, but only if there's a reasonable doubt they were involved in major crimes.

Some voiced reservations about the aforementioned agreement, fearing it would constitute a serious endangerment of Israelis' right to privacy. However, a mechanism reducing the damage done to Israeli suspects' rights and privacy to a minimum was evetually agreed upon, in a vein similar to other states' agreements with the US.

Specifically, the agreed terms stipulate no US agency will have direct access to Israel's information databases, and Americans will therefore need to query Israel on specific fingerprints collected in crime scenes.

The lack of any technological system capable of allowing police to provide answers on the legal status of Israelis involved in major crimes was hitherto a major impediment in Israel joining the VWP.

It was not the only impediment, however, as the US also demanded the rate of persons declined a visa will not exceed 3 percent annually. In 2016, the rate of Israelis declined a US visa was 4.1 percent. While the US will only publish 2017's data sometime during 2018, Israel fears the current trend will continue.

Most of the Israelis declined visas are youngsters recently discharged from the IDF, whose requests are almost automatically denied since American consuls suspect they intend to work in US shopping malls without permits.