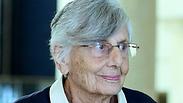 Ruth Bondy
Photo: Moshe Shay
Holocaust survivor, author and Czech-Israeli journalist Ruth Bondy has passed away at age 94, leaving being a plethora of works and translations completed over the course of a protracted and illustrious career in journalism.

Bondy survived the Nazis' Final Solution, passing through Theresienstadt concentration camp, Auschwitz-Birkenau and Bergen Belsen.

From an early age, she earned a reputation for her translation skills which she used to translate a host of renowned works from Czech to Hebrew, including "The Good Soldier" by Schweik by Jaroslav Hašek, and works by Czech-French writer Milan Kundera and Karel Čapek.

Her talents and contributions were recognized in 2014 when she was awarded the Tchernichovsky Prize, an Israeli prize awarded to individuals for exemplary works of translation into Hebrew.

Born in 1923, Bondy began her career in translation from English to Czech. During the Second World War, she was sent to a ghetto and a year later to Auschwitz.

Her parents perished at the hands of the Nazis but Bondy survived and emigrated to Israel in 1949 as part of an overseas recruitment program.

She began her journey to becoming a prolific writer in Israel when she took on a position at a newspaper controlled by the center-left Mapai party.

From 1951, she found work at the new immigrant newspaper Omer and Davar, a Hebrew-language daily newspaper published in the British Mandate of Palestine and Israel between 1925 and May 1996.

In the 1950s, she created a radio show "Three in a Boat" which was broadcast for three years on Kol Yisrael (Voice of Israel).

For the next thirty years, she worked in various media outlets in Israel. In Davar, she had her own satire column titled "It's going to be ok" and in 1967 she became the first female recipient of the Israeli journalism Sokolov Award.

Bondy also wrote the biographies of Chaim Sheba, an Israeli physician who founded the Sheba Medical Center, Pinchas Rosen, Israel's first justice minister, and Enzo Sereni, an Italian Zionist and co-founder of kibbutz Givat Brenner.

She later published her own autobiography "Shevarim shelemim" (Whole Fractures) in which she documented her life story from her youth in Prague, through her experiences under the Nazis and her immigration to Israel.

Three years ago, Bondy deposited her archive of works at the National Library.

She is survived by her daughter, Tal Shaban, who also became a journalist. Bondy's funeral will take place on Thursday at 1pm at Kibbutz Givat Haim.