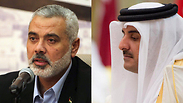 Political leader of Hamas (L) and Emir of Qatar
Photo: AFP, Reuters
US House panel OKs bill to sanction financial backers of Hamas
Lawmakers back legislation that would sanction any individual or country providing financial, material aid to Hamas, and suspend funding to the Palestinian Authority over their stipends to families of convicted terrorists; bill also criticizes Qatar, 'a longtime US ally that has for many years openly financed Hamas.'
The Republican-led House of Representatives committee delivered a blunt bipartisan warning to Qatar on Wednesday, backing legislation that would slap sanctions on any countries or individuals providing financial and material support to the Islamic militant group Hamas.

The Foreign Affairs Committee passed the bill by voice vote, setting the stage for the full House to consider the measure.

The bill specifically criticizes Qatar for supplying Hamas with significant financial backing and for hosting members of the militant group's leadership.

Saudi Arabia, Egypt, the United Arab Emirates and Bahrain broke ties with Qatar earlier this year over allegations the Persian Gulf country funds terrorism. President Donald Trump echoed the accusation.

The bill adds that in March 2014 the Treasury Department "confirmed that 'Qatar, a longtime US ally has for many years openly financed Hamas.'"

Late last month, however, Treasury Secretary Steven Mnuchin announced a rare display of cooperation among the oil-rich Gulf states when he unveiled a coordinated counterterrorism effort involving Qatar, Saudi Arabia, the United Arab Emirates, Oman, Kuwait and Bahrain. The countries agreed to sanction a number of Yemenis and an entity suspected of financing the Islamic State group and al-Qaida.

The bill underscores the complicated relationship between Qatar and the United States. Qatar is home to the massive al-Udeid Air Base, the forward headquarters of US Central Command where nearly 10,000 US troop are stationed as part of the campaign against the Islamic State group and the war in Afghanistan.

Republican Reps. Brian Fitzpatrick of Pennsylvania and Dan Donovan of New York said last month that "Qatar is the master of playing all sides." The country, they wrote in an op-ed published in The Hill newspaper, has used an "innovative approach" to avoid being punished by the US and European nations for backing terrorists groups:

"Pursue good relations with the United States, make false promises about combating terror, lavishly fund western universities and business projects—all while quietly financing and promoting terror, allying with Iran, and leveraging an American air base as an insurance policy against punishment for promoting terror," the congressmen wrote.

Qatar is about the size of Connecticut and sticks out like a thumb on the Arabian Peninsula into the Persian Gulf. Qatar has the highest per-capita income in the world due to its natural gas reserves. Qataris practice an ultraconservative form of Islam known as Wahhabism.

Hamas, which seeks Israel's destruction, has ruled Gaza with an iron fist since seizing control of the coastal area in 2007. Hamas has since clashed repeatedly with more radical groups, which have carried out their own attacks against Israel in part to undermine Hamas.

Donovan said Wednesday that Hamas has been "intertwined with Iran ideologically, politically and militarily." Qatar, he added, "now has a strategic opportunity to sever itself from Hamas and by extension, Iran, which is a state sponsor of terrorism."

The committee also approved the Taylor Force Act—a bill that would suspend US financial assistance to the Palestinian Authority until it takes credible steps to end acts of violence against US and Israeli citizens.

The bill that would sharply reduce the $300 million in annual US aid to the PA unless it stops making what lawmakers described as payments that reward violent crimes. It reflects bipartisan outrage over what lawmakers have termed a "pay to slay" program endorsed by the Palestinian Authority.

Named after a 29-year-old American military veteran fatally stabbed to death by a Palestinian attacker while visiting Israel in 2016, the measure is intended to stop the PA from paying stipends, which can reach $3,500 per month, to militants killed or imprisoned by Israeli authorities.

Force's attacker was killed by Israeli police, but his killer's family receives such a monthly payment.

To become law, the bill must pass the full House and Senate, and be signed into law by President Donald Trump.

Congressional aides said they expect a vote in the House before the end of 2017. Similar legislation has been passed by two Senate committees, but there was no immediate word on when the full Senate might take up the bill.

Palestinian officials have said they intend to continue the payments, which they see as support for relatives of those imprisoned by Israel for fighting against occupation or who have died in connection with that cause.