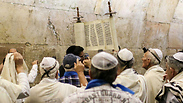 Holocaust survivors celebrating Bar, Bat Mitzvah at Kotel
Photo: Noam Moskovich
Despite being over 70 years late, dozens of Holocaust survivors from southern Israel celebrated a Bar and Bat Mitzvah ceremony at the Western Wall earlier this week.

"We ran away with nothing, only the clothes on our back," said Ravichev Aspir. "My mother told me that in our religion, it's customary for boys and girls to celebrate when they reach that age, but it's not something we could have done."

Aspir was 11 when the war began. "My father was 51, so they did not enlist him in the Red Army," she elaborated. "Together with my mother and brother, who was 17 at the time, we fled to the remote areas of Russia, where the Nazis had not yet invaded. We had nothing, we were hungry all the time, and we lived in a crowded place. I remember most of the time I was just cold and very hungry."

When the time came to celebrate her Bat Mitzvah, her parents could not hold the event. After the end of the war, the family stayed in Russia because their home in the Ukraine was completely destroyed.

After completing her studies at the university, Aspir returned with her husband to Ukraine and in 1994 immigrated to Israel with her husband and son. She now lives in Arad.

"I am very excited about the event at the Western Wall. Because of such events Israel came to be, and that is what I feel now," said Aspir.

Alexander Buchnik, 87, born in Moscow, was also very excited to finally celebrate his Bar Mitzvah.

"I do not remember much of the war. My father was drafted into the Red Army, and we do not know what happened to him to this day," he said. "My mother took me and my two little brothers and escaped from the war.

"When I was 13, Moscow was liberated from the Nazis, and we went back there, but we had no way to celebrate a Bar Mitzvah. Mother was busy surviving and keeping us alive, we could not think about it at all."

Holocaust survivors celebrate Bar and Bat Mitzvah at the Western Wall (עורך - בן שכטר)

Buchnik and his family immigrated to Israel in 1994. "I've been thinking about having a Bar Mitzvah all my life, and all my life I felt like I've missed out on so much," Alexander said. "I am excited and happy; at last I will become a real Jew."

Liebman Semyon, a native of St. Petersburg, was about five years old when the war began. He was in preshool with his two-year-old sister when the authorities came and took the children to a remote city. Their mother joined them at a later stage.

"It was absolutely forbidden to talk about Judaism or about having a Bar Mitzvah, so we did not talk or initiate any conversation about it," Semyon recalled. "When I received an ID, they suggested I change my name and that I don't state my nationality in order to hide my identity. I said I did not want to change anything."

"This is an amazing surprise and holds great significance for me," he added. "I suddenly feel like a child before a big event. I'm really excited."

Rabbi Yechiel Eckstein, the chairman of the Friendship Foundation, which organized the event, said he "finds it difficult to think of anything more moving than elderly Holocaust survivors who get to celebrate a late Bar and Bat Mitzvah, in the holiest place for the Jewish people."

The Western Wall Heritage Foundation noted this was one of the most special events to take place in the history of the Western Wall.

"The light and darkness here are mixed up, but the hope is absolute, and this is proof that it is never too late," Eckstein added.