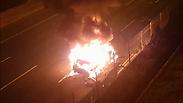 A man was killed and another was very seriously wounded shortly after midnight Thursday when the car they were traveling in blew up on the Ayalon Highway, in what police say was an assassination criminal in nature.

The slain man was identified as Abed al-Hafez Ar'ar, in his 30s, from Jaljulia. His brother, Fadi Ar'ar, was shot dead two years ago.

The wounded man is Ali Amar from Kafr Qasim. His father Mustafa and brother Alaa were shot dead five months ago. He was taken to the Ichilov Hospital at the Sourasky Medical Center in Tel Aviv, suffering from a serious head injury.

Both Ar'ar and Amar were arrested several months ago on suspicion of being involved in a double homicide in Kafr Qasim, but were released due to the lack of evidence.

The car blew up at 12:03am near the KKL Interchange in northern Tel Aviv, setting the vehicle on fire.

The car explosion led to the closure of the southbound Ayalon Highway from the KKL Interchange to the Rokach Interchange. The highway, an arterial road in central Israel, was reopened in the early morning hours.