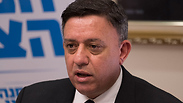 Labor leader Avi Gabbay
Photo: Yoav Dudkevitch
Why is Gabbay shooting his own camp in the foot?
Op-ed: Instead of making it clear that a person can believe in Israel's security and oppose settlements, and that a person can be both Jewish and a complete secular who opposes religionization, the Labor leader is talking like a rightist in a bid to attract right-wing voters. But why would rightists vote for him when they could vote for the real thing?
The surprised observer can't help but wonder about Labor leader Avi Gabbay's recent comments. What made him, for example, give the following answer to a student who told him she felt his moves were driving her away from his party: "In 1997, (Prime Minister Benjamin Netanyahu) was caught on camera saying that 'the Left has forgotten what it means to be Jewish.' Do you know what the Left did in response? It forgot what it means to be Jewish."
In other words, someone challenged Gabbay, and he shot his own camp forcefully in the foot.
Criticizing the Labor Party's conduct is one thing. It was expected and it's even welcome. Saying that the Left has moved too far away from tradition? Okay, fine. But identifying with one of Bibi's most despicable whispers, a comment that excludes an entire group, and justifying it in retrospect is quite puzzling. How could he go as far as accusing the Left of not being Jewish?
Let's take Gabbay's predecessor in the Labor leader position, Isaac (Buji) Herzog—an important rabbi's grandson, a man who identifies as a traditional Jew, who is very familiar with Jewish texts and is much more observant than Bibi, the so-called king of Jews. Is he less Jewish than Gabbay? I seriously doubt it. What makes Buji not Jewish, according to Bibi and Gabbay's doctrine, is not his level of commitment to Jewish tradition, but his level of commitment to the Right's political values. In that respect, Gabbay is without a doubt more Jewish than Herzog.
What makes Gabbay produce these comments (and at this stage, it's hard to see his words as an exception but rather as the Gabbay norm)? One possibility, which has been raised by the few supporters he has left in "the base," is that his actions are preplanned. Gabbay is smart, and his great wisdom has led him to carry out another one of those sophisticated Labor leader moves, seeking the Right's fondness. Since the Right's slogan these days is "Strike the leftists and save Israel!" (or at least gain what non-Likud politicians have been craving for so long—"legitimization"), Gabbay is striking the leftists.
Your article, people will say, is just what the artful Gabbay wants. You'll condemn him, and rightists will head to the polling stations in droves and cast the right ballot. Look who's coming! It's the next prime minister, or at least the next finance minister. Maybe.
Another possibility, an admittedly less sophisticated one, is that Gabbay isn't saying what his potential voters in the Right want to hear, but what he really wants to say. Gabbay is a rightist who has taken over the Labor Party and is saying what he believes. His opinions are located somewhere between the Bayit Yehudi and Likud parties, and when he is asked about them, he expresses them without a lot of manners.
I assume Gabbay is acting on the advice of his not-so-sophisticated spin doctors: Keep as far away from the Left as possible, at all costs. The voters in your base will vote for you in any event. Your goal is to attract votes from the Right.
Ignoring the fact that this method has been tried for decades and has failed to yield any impressive fruit, such a move should have shattered cultural and political expectations and prejudices: If you thought every leftist was necessarily an Ashkenazi pacifist and religion hater from Tel Aviv, you were wrong. One can be a leftist without these identity aspects that drive you away. One can believe in a decent peace process, In separating state from religion, in equality and in social justice, even if he is a traditional Jew from Jerusalem who is fully committed to Israel's security.
To make this move work, Gabbay should have made it clear that a leftist can be a devout Zionist rather than being shocked upon discovering that Knesset Member Zouheir Bahloul isn't Zionist (and why should he be Zionist?). A person can believe in Israel's security and oppose settlements, which make any agreement impossible. A person can be both Jewish and a complete secular who opposes religionization.
But Gabbay isn't producing such a complicated display. He is producing a simple and completely coherent display of a rightist. Granted, he is a rightist who opposes corruption, but the Bibi government's corruption isn't part of the right-wing agenda anyway, rather something right-wing voters are willing to accept. That being the case, they would rather vote for the real thing than for someone who talks like a rightist.