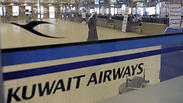 Kuwaiti Airways refused to board an Israeli passenger
Photo: AP
German court: Kuwait Airways can refuse Israeli passengers
German court rules Kuwaiti national airline does not have to transport Israeli student traveling from Frankfurt to Bangkok with stop-over in Kuwait City due to Kuwaiti laws forbidding contact with Israelis; Israeli refuses offer of nonstop flight with other carrier, sues airline; court rejects suit, says does not recognize discrimination based on nationality.
A German court ruled Thursday that Kuwait's national airline didn't have to transport an Israeli citizen because the carrier would face legal repercussions at home if it did.

The Frankfurt state court noted in its decision that Kuwait Airways is not allowed to have contracts with Israelis under Kuwaiti law because of the Middle Eastern country's boycott of Israel.

The court said it didn't evaluate whether "this law make sense," but that the airline risked repercussions that were "not reasonable" for violating it, such as fines or prison time for employees.

An Israeli citizen, identified in court papers as Adar M., a student living in Germany, sued Kuwait Airways after it canceled his booking for a flight from Frankfurt to Bangkok that included a stop-over in Kuwait City.

The cancellation came a few days before M.'s scheduled departure in August 2016 when he revealed he had an Israeli passport. The airline offered to book him on a nonstop flight to Bangkok with another carrier.

The Israeli refused the offer and filed the lawsuit, seeking compensation for alleged discrimination. He also insisted the airline should have to accept him as a passenger.

The court rejected his discrimination claim, ruling that German law covers discrimination based on race, ethnicity or religion, but not nationality.

Germany's Central Council of Jews condemned the ruling, calling it "unbearable that a foreign company operating based on deeply anti-Semitic national laws is allowed to be active in Germany."

Frankfurt Mayor Uwe Becker expressed a similar view. "An airline that practices discrimination and anti-Semitism by refusing to fly Israeli passengers should not be allowed to take off or land in Frankfurt," Becker said.

An official German response came Friday, as the country's foreign ministry said it will press Kuwait about the law preventing its national airline from transporting Israelis.

Deputy foreign minister Michael Roth told Die Welt newspaper Friday that Germany's ambassador has been asked to raise the issue with Kuwaiti authorities.

Roth said: "It is incomprehensible to me that in today's Germany a passenger cannot board a plane simply because of his nationality."

Courts in the United States and Switzerland previously have ruled in favor of plaintiffs in comparable cases, the German news agency dpa reported.

A lawyer for the Israeli passenger called the verdict "deeply shocking."

"This is an embarrassing ruling for democracy and for Germany," lawyer Nathan Gelbart said. "It cannot be allowed to stand like this."