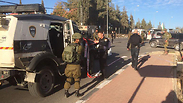 Scene of attack
Photo: TPS
Terrorist wounds 2 Israelis in vehicular attack
Palestinian terrorist,17, smashes car into a 35-year-old Israeli civilian standing at a bus stop at Gush Etzion Junction, leaving him in serious condition; another man, 70, also lightly wounded in attack; terrorist charges at IDF soldiers carrying a knife before being shot and critically wounded by security forces; 'The terrorist had a big smile on his face.'
An Israeli civilian was left in serious condition after being run over by a terrorist at Gush Etzion Junction Friday morning. A 70-year-old man was also lightly wounded at the Efrat South Junction in the attack. The terrorist was critically wounded after being shot and neutralized by security forces nearby.
The terrorist, who was identified as 17-year-old Az al-Din Kraja from Halhul north of Hebron, alighted his vehicle and charged at a group of IDF soldiers carrying a knife before security forces opened fire. He was later evacuated to Hadassah Ein Kerem Medical Center.
Scene of the attack (יהודה שפירא)
Magen David Adom (MDA) paramedics arrived at the scene before the victims were rushed to Hadassah Ein Kerem Medical Center and Shaare Zedek Medical Center in Jerusalem.
The 35-year-old victim was later identified as Evven Ezer Holhering, a father of six from Kiryat Arab who belongs to the Bnei Menashe in the West Bank.
Speaking to Ynet, Ezer's wife pleased with the country to pray for her husband, who was suffering serious head injuries. "He is in very serious condition. I ask all the people of Israel to pray for him," she said.
Deputy head of the Kiryat Arba Council Yisrael Bramson offered his support to the family.
"We are all praying that Ezer will come out of the operation safely and his recovery process will be speedy. We will continue to accompany his family throughout the process," Bramson said.
"We call upon the people of Israel to pray for the recovery of Evven Ezer (Ben Malcha) who needs heaven's' mercy. His condition is very serious."
Professor Alon Pikarsky, senior physician and head of Colorectal Surgery, said that Holhering was suffering from bleeding of the brain, necessitating urgent surgery.
"He doesn't have any other significant injuries. He is in serious condition but he is totally stable."
The other victim, David Ramati, 70, recalled that "The terrorist had a big smile on his face."
Speaking from his hospital bed in Shaare Zedek Medical Center, Ramati said: "I was going for a walk toward Efrat's southern entrance. The terrorist passed me, did a U-turn and sped up to 90km per hour. I realized he wanted to hit me.
"I put my hand on my gun and at the same time saw a big smile on his face. I realized I wouldn't manage to draw the gun so I jumped onto the nearby rail. When I was in the air he managed to hit me with his car and send me flying," Ramati continued.
"My whole face was covered in blood and I couldn't see anything. I hardly managed to stand up and go back to call for help."
The incident occurred at 6:45am on the road between Alon Shvut and Gush Etzion Junction when the terrorist used his civilian vehicle to carry out the attack, which was brought to a halt by the 50th Battalion from the Nahal Brigade stationed in the area.
The IDF launched an investigation shortly after to determine whether the seriously wounded Israeli was standing outside the concrete blocks erected at the station to prevent successful vehicular attacks.
During the height of the wave of terror in recent years, during which Israelis experienced daily shootings, knifings and car-rammings by Palestinians, the IDF placed thick concrete slabs at central bus stops that had become flashpoints of vehicular attacks and at stations located in the West Bank.
An MDA medic who arrived at Efrat South Junction described the injuries sustained by the victims.
"There was a 70-year-old man lying conscious on the side of the road having suffered head injuries," the medic said. "While treating him we received reports that another person had been wounded in a vehicular attack at Gush Etzion Junction nearby."
The same spot has been struck by other terror attacks in the past. In November 2015, a shooting attack claimed the lives of Ezra Schwartz, an 18-year-old American volunteer; Shadi Arafa, a 24-year-old Palestinian resident of Hebron; and Yaakov Don, a 51-year-old teacher and father of four from Alon Shvut.
The terrorist, Mohammed Abdel Basset al-Kharoub, 24, a Palestinian from the village of Dir Smat near Hebron, was sentenced earlier this year to four life sentences for the attack and ordered to pay NIS 750,000 in compensation to the families of his victims.