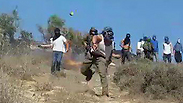 Settlers threw rocks at Palestinians as IDF soldiers stood by
Photo: Zacharia Sadeh, Rabbis for Human Rights
Soldiers stand by as settlers pelt Palestinians with rocks
Footage shows IDF soldiers standing idly by as masked settlers hurl stones at Palestinian farmers, human rights activists following fire started by one farmer near West Bank village of Burin; 1 activist injured, fire subdued by Israeli forces; multiple clashes between settlers, Arabs over last 2 weeks as olive harvest winds down.
Settlers with covered faces threw rocks at Palestinian farmers near the West Bank village of Burin Friday, as IDF soldiers stood by without intervening. Video footage of the incident, it should be noted, cuts off right as the masked settlers come nearer the farmers.

At about 12:30 pm Friday, a fire broke out in the fields near Burin and the adjacent illegal stronghold of Givat Ronen. The fire was caused by one of the village's farmers burning agricultural waste. Firefighting and security forces arrived to the scene and got the fire under control with the assistance of local farmers.

Footage of the incident (זכריא סדה, רבנים לזכויות אדם)

As the Israeli forces were fighting the fire, however, a group of masked settlers began pelting the Palestinian farmers with stones as the soldiers stood nearby and did nothing to stop them.

The event was captured on camera by activists from the Yesh Din and Rabbis for Human Rights organizations. The latter organization's Human Rights in the West Bank Director, Zacharia Sadeh, was wounded.

The normally-tense period of the olive harvest is nearly at an end, but in the past two weeks several violent scuffles broke out between bands of Hilltop Youths and Palestinian harvesters in their vicinity.

Confrontations took place mostly around the settlement of Yitzhar, where Jewish settlers claimed Palestinians were harvesting in lands owned by their settlement.