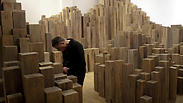 The Warsaw Ghetto exhibit
Photo: AP
Letters and milk jug: Warsaw Ghetto archive goes on display
New exhibit titled 'What we were unable to shout out to the world' displays documents collected from Warsaw Ghetto, secreted in milk jugs during World War II to preserve record of Jewish life in ghetto; Jewish historian, 50-60 helpers collect documentation; all but 3 perish in Holocaust.
Letters and other witness accounts of Jews in the Warsaw ghetto—the records of a community destroyed in the Holocaust—have gone on display for the first time.

The exhibition, titled "What we were unable to shout out to the world," opened at the Jewish Historical Institute in Warsaw this week. It includes letters, journals, official records and other documents in Polish and Yiddish as well as an old metal jug used to hide documents from the Emanuel Ringelblum archive.

Ringelblum, a Jewish historian and social activist, and some 50 to 60 helpers collected the documents during World War II to preserve a record for posterity of Jewish life in the Warsaw ghetto during the German occupation of Poland. They gathered on Saturdays, and came to be known as the Oneg Shabbat, meaning "Joy of the Sabbath."

They hid their trove in 10 metal cases and two metal milk cans, evidence that was recovered after the war.

Ringelblum and all but three of those who helped him were killed in the Holocaust.

The Germans imprisoned 400,000 Jews in the Warsaw ghetto, where they suffered severely from starvation and diseases before most were deported to the Treblinka death camp and murdered.