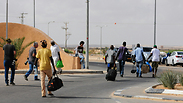 Africans in Holot
Photo: Herzl Yosef
The government unanimously approved on Sunday a bill proposal to close the Holot detention facility, which houses African illegal immigrants and asylum seekers.

The government extended the temporary order keeping the Holot facility open by only three months in an effort to encourage "voluntary departure" and close down the facility within four months.

The illegal immigrants and asylum seekers from Eritrea and Sudan will face two options: either be imprisoned in the Saharonim Prison or expelled to Rwanda under an agreemend the African country signed with the State of Israel.




"Our policy towards infiltrators is three staged," Prime Minister Benjamin Netanyahu said Sunday. "Stage one is halting. We built a fence and enacted laws that completely blocked the flow of infiltrators, and today we have zero infiltrators."

"Second stage is removal," he continued. "We removed approximately 20,000 out of the existing infiltrators using various measures."

"Stage three is increased removal," Netanyahu went on to say. "This removal is enabled thanks to an international agreement I achieved, which allows us to remove the 40,000 remaining infiltrators without their consent. This is very important. It will enable us later to make the 'Holot' facility unnecessary and to use part of the vast resources we allocate there for inspectors and increased removal. That is why we are succeeding here. But our goal is to continue removing significantly more then what we have until now."

According to the Public Security Ministry, the costs of keeping the facility open amount to NIS 240 million annually.

The proposal by Interior Minister Aryeh Deri and Public Security Minister Gilad Erdan includes a plan to gradually close the facility within a few months, provided that the agreement signed with Rwanda goes ahead as planned.

About a month ago, Netanyahu announced the agreement had been amended to allow Israel to deport illegal migrants to Rwanda even without their consent.

The agreement was altered following an August ruling by the High Court of Justice, which determined the State of Israel cannot detain illegal immigrants and asylum seekers who refuse "voluntary departure" for more than 60 days if the agreement with the third party does not allow forced deportation.

"An infiltrator who is not in Holot will either be in prison or outside of Israel," Deri said after the approval of the legislation proposal. "This is the right policy to ease the suffering of residents in south Tel Aviv and other neighborhoods where the infiltrators reside. My duty is to return peace and quiet to south Tel Aviv and many neighborhoods across the country."