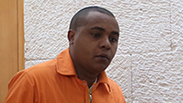 President Reuven Rivlin announced on Sunday that he has decided to commute the prison sentence of Yonatan Heilo, convicted in 2010 for the murder of Yaron Atalin, who it was discovered had raped Heilo. The presidential reprieve means that Heilo could be released on parole very soon.

During Heilo's trial, it was found that he had been raped twice by Atalin, which led to a reduced sentence, of 20 years, in addition to Heilo being ordered to pay Atalin's family damages. In 2016, the court changed his conviction to manslaughter and reduced his sentence to 12 years.

In their ruling, the judges accepted Heilo's claim that he was petrified of Atalin, and that Heilo is suffering from severe distress due to experiencing prolonged and significant abuse.

In December, 2016, Rivlin rejected Heilo's previous plea for a reprieve, stating that a presidential commute is not another level of appeals following the court's decision, and that the main points stressed in Heilo's plea, which stressed the extreme circumstances of the case, were already taken into account when the court made its decision to reduce his sentence from 20 years for murder to 12 for manslaughter.

Heilo reacted to Rivlin's original rejection by saying, "I feel I've faced racism from the system. It's clear to me that were I a white man, they would have looked at me differently. They would never have dared speak to a white man who had been raped the way they spoke to me, or to a woman. A man who is raped gets laughed at."

Despite his original rejection, Rivlin did tell Heilo that he would reconsider his position were Heilo to submit another appeal after a substantial amount of time had passed.

Such was the case on Sunday. "In light of the significant rehabilitation process that Heilo underwent over the past year, his unusual medical condition and the incredibly harsh circumstances, with him being the victim of severe acts prior to the act he committed, the president has decided to adopt the position of Justice Minister (Ayelet Shaked—ed) and exchange part of the sentence's jail time given to Heilo with parole time."

Rivlin's statement continued to say that as such, "the actual (minimal) jail time will be ten years and eight months, allowing him to stand before the parole committee in the near future."

Since Heilo has already served ten years and eight months in prison, Sunday's presidential commute reduced Heilo's prison time by a year and four months.

Two weeks ago, Minister Shaked issued a recommendation to shorten Heilo's sentence, after accepting the Justice Ministry's position, thereby allowing him to present his case before a parole board sooner than planned.

With his time spent in prison and the recommendations of Rivin, Shaked and the Justice Ministry, Heilo is expected to appear before a parole committee and be approved for release in the near future.

Heilo's case stirred many social activists into action, bringing about a nationwide campaign for his release. As part of the campaign, a request to reprieve Heilo was signed by dozens of MKs.

MK Yoel Hasson (Zionist Union) responded to the presidential commute by saying, "I applaud the president for his decision to lighten Yonatan Heilo's sentence. I initially got more than 70 MKs to sign the request to reprieve him." He added that "thankfully, the president saw this move as a supporting wind for his decision.

"Yonatan found himself under particularly tragic circumstances," said Hasson, before stating that "one the one hand, he has paid his debt to society and spent several years in prison, and one the other hand he has reached the point when he should be released and allowed to rehabilitate his life."