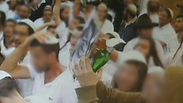 Guests at the 'wedding of hate'
The Jerusalem Magistrate's Court dismissed on Monday five indictments against teenagers who participated in what became known as the "wedding of hate."

Videos filmed at the Jerusalem wedding of Yakir and Ronny Ashbal in December 2015 show guests dancing while brandishing firearms and Molotov cocktails, and mocking the murder of Palestinian baby Ali Dawabshe—who was burned to death along with his parents in an arson attack at his home in Duma—by stabbing a photo of his with a knife and trying to set it on fire

A year ago, the Jerusalem District Attorney charged 13 of the wedding guests, including five minors, with incitement to violence and terrorism and the unlawful possession of weapons.

Footage from the 'wedding of hate'

After the trial had begun, the minors' lawyers learned that when filing the indictments, the District Attorney's Office did not present an authorization from the attorney general—which is necessary for such indictments against minors—and asked to dismiss the case on those grounds.

The District Attorney's Office claimed they obtained this authorization, which was sent to them via email.

Judge Shimon Leybo determined there were flaws in the filing of the indictments and that the necessary authorization had not been obtained on time.

The judge did note he would not prevent the prosecution from re-filing the indictments after the necessary corrections are made.

Public Defense lawyer Moriya Sasson, who represents one of the defendants, said in response: "It turns out the filing of the indictment in this case was done in a flawed manner. The District Attorney's Office was more focused on public relations and their image than professional considerations."

Adv. Sinaia Harizi-Moses of the Honenu organization added, "I was happy to hear the court's decision, which brought justice where there was an attempt to allow the harming of minors in hindsight."