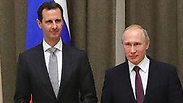 Assad (L) and Putin in Sochi, Tuesday
Putin and Rouhani need Assad just as much as he needs them
Analysis: While it may seem like the Assad regime would collapse without Russian and Iranian support, the two countries now need the Syrian president to provide them with international legitimization to keep their forces on his country's soil after the war, so they can exploit the strategic goals and the assets they have gained there.
Russian President Vladimir Putin and Iranian President Hassan Rouhani need Syrian President Bashar Assad just as much as he needs them. That explains the urgency in inviting Assad to meet with Putin and with Russia's security-military echelon in Sochi.

Seemingly, the Assad regime would collapse without Russian and Iranian support, which is why the Syrian president is allegedly completely dependent on them and they don't have to consider his opinion on any issue whatsoever. Recently, however, Assad gained some trump cards. Russia, Iran and even Turkey need him to exploit the assets they have gained as a result of their military intervention in Syria. Assad is providing them with legal and international legitimization to remain in his country and to gain from economic projects related to its reconstruction. Assad is also allowing the Russians, the Iranians and the Turks to realize their strategic goals through their ongoing presence in Syria.

To understand that, we should remember that the Iranians, Hezbollah and the Russians needed a formal invitation from Assad to bring their military forces into Syria and help him. Russian Foreign Minister Sergei Lavrov mentioned this fact several days ago, clarifying that unlike the Americans, the Russians' presence in Syria is legitimate because they were officially invited by the Assad regime to fight the Islamic State on Syrian soil.

Now that the ISIS presence on Syrian soil has been eliminated, the Russians and Iranians have legal and international legitimization to remain in the country. The Americans have no such legitimization. The Russian and Iranian presence in Syria provides Putin and Rouhani with access to military bases in a way that allows them to control a strategic point—the eastern basin of the Mediterranean Sea—and compete over economic projects to rebuild Syria's ruined infrastrctures and receive preference over other international competitors.

Turkey wants a share of these economic profits too and seeks to maintain its military presence in Syria to ensure that the Syrian Kurds won't establish a state in northern Syria, on the Turkish border.

Putin needs Assad's goodwill to advance the political agreement that will end the civil war. As odd as it may seem, Assad is still insisting on selecting the opposition groups he is willing to talk to, and refuses to see the groups suggested by Russia in the joint interim government. Putin wants Assad to agree to talk to everyone. In a bid to soften him, he invited the Syrian president to Sochi two days before his meeting with Rouhani and Turkish President Recep Tayyip Erdogan, in which three leaders will discuss the division of their loot in Syria.

In a bid to gain Assad's cooperation, Putin invited the generals who participated in the war in Syria—the same generals Assad owes his political survival to—to his meeting with the Syrian president. Assad got the hint, and announced that he intended on talking to all opposition groups in Syria, just like the Russians want.

Putin, for his part, announced that he intended to pull his forces out of Syria. This statement should be taken with a grain of salt. Putin has already made a similar announcement in the past, but he left enough forces to protect his interests—the Russian military port in Tartus and the airport in Khmeimim.

Putin will keep it up even if an agreement is reached in Syria: He will reduce the Russian forces there to a minimum in order to maintain a strategic presence. The Iranians wish to do the same, but it's unlikely that the Russians and Assad will give them everything they want in light of the American and Israeli objection.

When the Iranian and Turkish presidents arrived in Sochi on Wednesday, Putin can tell them that he knows what Syria wants and that he's talking on Assad's behalf too. The most important thing is to keep Assad is happy and ensure that he agrees that Russia and Iran—and perhaps Turkey too—will receive a proper reward for saving his regime from a complete collapse.