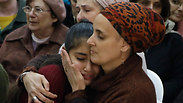 Hodaya's mother at the funeral
Photo: Shaul Golan
Funeral of 2011 J'lem terror victim takes place
Hodaya Nechama Asulin, victim of 2011 terrorist attack in Jerusalem's International Convention Center, passes away after 6-and-a-half-year coma; funeral held at her home of Mevo Horon; 'G-d chose you to be a soldier for the Israeli people,' says victim's mother; MK Hanegbi: 'Evil ended life of a young woman in prime of her life, but it will not vanquish our people.'
Hundreds of friends and family members attended the funeral of 21-year-old Hodaya Nechama Asulin Wednesday afternoon, which took place at the Mevo Horon cemetery. Hodaya passed away overnight after six and a half years. She entered a coma after being wounded in a 2011 terrorist attack in Jerusalem and never awoke.

Hodaya's mother Michal eulogized her daughter. "You were given to us as a gift twice, once 21 years ago and again seven years ago. You made peace with your torments. It's as if you said, "Whatever G-d Almighty does is fine with me,'" Michal said.

"G-d chose you to be a soldier for the Israeli people. You were tormented for the people of Israel and granted countless people at home and abroad the privilege to read Tehillim (Psalms—ed) in your honor," the deceased's mother continued.

Asulin remained under constant supervision since her injury, but her condition took a turn for the worse in the past two weeks. The attack—which was carried out when an explosive device detonated near a payphone—also claimed the life a 59-year-old British tourist. Dozens of others were wounded.

Hodaya's father Eliyahu read Psalms in her memory and then gave a eulogy of his own. "Thanks to Hodaya we held Torah lessons at home and many young people grew stronger in their faith. She taught us how much you can positively influence the youth," he said.

Asulin's father also said the prayer were not for naught and called on young people "to carry on praying with only a minor change, to say they were for the exaltation of the soul of Hodaya Nechama."

Asulin's mother then spoke of another disaster to befall the family in the past, in which she lost a baby, and said, "I explained to my friends prayers are never wasted. G-d simply chooses what to do with them."

The mother then turned directly to her late daughter and said, "Pray for the people of Israel, pray for our family. You've given your life for Kiddush Hashem and we thank Him for depositing you with us. The Lord gave and the Lord hath taken away."

Many well-known rabbis attended the funeral, including Safed Chief Rabbi Shmuel Eliyahu, who knew Asulin's family. "Hodaya was a wellspring of life and work. The family's heroism is an example of our own unwillingness to break. This child was killed in war, and the nation's staying power is also measured by the power of the home front," he said.

MK Tzachi Hanegbi (Likud) attended the funeral as the government's representative. "Hodaya was wounded and fought year in and year out surrounded by the love of her family and town. The pain is enormous, and anyone who heard the news in the Knesset could feel the shock. Evil ended the life of a young woman in the prime of her life, but it will not vanquish our people. We'll continue settling this land and turning back our enemies," Hanegbi eulogized.