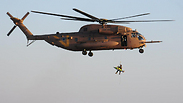 Yasur helicopter
Photo: Herzel Yosef
Classified Israeli intel Trump disclosed to Russia revealed
Vanity Fair magazine reports new details on the 'code-word' Israeli intelligence President Trump shared with Russian officials, relating to a dangerous special ops mission by an IDF commando unit and the Mossad deep within enemy territory to collect info on new bombs designed to elude airport X-rays.
New information on the classified Israeli intelligence US President Donald Trump revealed to Russia has been uncovered, detailing a special operations mission by the IDF special commando unit Sayeret Matkal and the Mossad deep inside Syrian territory, it was reported in the US magazine Vanity Fair.

It was revealed in June that Israeli cyber operators were able to penetrate a small cell of extremist bomb makers in Syria who were working to make explosives resembling laptop batteries capable of bypassing X-ray machines unnoticed.

According to Vanity Fair's report, the operation—which took place in February—aimed to acquire information on new explosive technology being developed by Ibrahim al-Asiri, an al-Qaeda's chief bombmaker.

Intelligence for the classified mission, according to an ABC report from American sources, was provided by an Israeli spy who was planted deep within ISIS territory. His life was reportedly put in danger due to Trump's disclosure.

According to Israeli and American intelligence sources, a Sayeret Matkal commando unit and Mossad tech agents flew two Yasur helicopters over Jordanian territory into Syrian territory.

The helicopters landed a few kilometers from the target, unloaded two jeeps bearing Syrian army insignia, which the Mossad and Sayeret Matkal personnel drove into enemy territory.

The details of their operation are scarce, and specifics on how they managed to gather the information is contradictory at times.

According to one source, the forces installed a microphone in the room where the ISIS terror cell was to meet, but a second source claimed that the forces had retooled a telephone booth in the meeting area to pick up and transmit surrounding sounds to the IDF Intelligence Corps Unit 8200, which is responsible for collecting signal intelligence and deciphering codes.

After a few days of Unit 8200 crews listening at their base in the Golan Heights to the terror cell, there was concern that Israel had been misled by their sources in the field.

Eventually, the unit picked up the voice of an ISIS soldier who described how to turn a laptop into a bomb that can be transferred to airport airfields and board a passenger plane.

When the information reached the Mossad headquarters, officials in the organization decided to share the information with their American counterparts. According to an Israeli military source, the decision to share was also due to professional arrogance stemming from a desire to impress their partners in Washington by the tasks they were able to perform.

According to the magazine, the American espionage community considered the Israeli mission to be a "casebook example" of intelligence gathering of valued information being put to good use.

As a result of this information, US officials, followed by the United Kingdom, have banned people from bringing laptops and electronic devices larger than a mobile phone on flights from several Muslim-majority countries.

Only four months later, after the airports adopted the new and tougher US safety regulations, the ban was gradually lifted.

The achievement was then overshadowed when, on May 10, Trump boasted to Russia's Foreign Minister Sergei Lavrov and Russian Ambassador to the United States Sergei Kislyak in a White House meeting about the his access to classified information.

"I get great intel. I have people brief me on great intel every day," Trump reportedly bragged in the White House meeting, going on to brief the two on "code-word information" the US received from Israel which compromised Israel's sources in enemy territory.

National Security Adviser H.R. McMaster told reporters that Trump's disclosure was "wholly appropriate." Israeli Defense Minister Avigdor Lieberman tweeted that the allies will continue to have a "deep, meaningful and unprecedented" security relationship.

President Trump himself defended his decision by saying he had an "absolute right" to share information with Moscow.

During a press conference at the White House with Turkish President Recep Tayyip Erdogan, Trump said that his meeting with Lavrov and Kislyak was "very successful and will contribute to the war on terrorism."