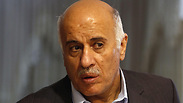 Palestinian Football Federation chief Rajoub
Photo: AFP
Palestinian football chief: We'll never play without anthem, flag like Israel
Palestinian Football Federation Chairman Rajoub says Palestine squad will 'easily beat' Israeli team, which it has overtaken in FIFA's rankings; Sports Minister Regev is 'one huge disaster', Israel Football Association's Chairman Eini 'may not know what he's doing,' Rajoub says.
When Chairman of the Palestinian Football Federation Jibril Rajoub was asked if his national team would be willing to meet Israel's squad on the football pitch, he said, "I have no qualms about playing the Israeli National Team, but only as long as it's under the Palestinian anthem and flag. We have no intention of following your judokas' example, who forsook their flag in Abu Dhabi."

"We'd never compete without our flag and anthem. (Sports) Minister (Miri) Regev and the chairman of the Israeli Judo Association may be willing to abandon their symbols, but I won't abandon mine," Rajoub vowed.

The Israeli selection dropped four places in the latest FIFA ranking published Thursday, placing them 16 places below the Palestinian team.

Who would win that game?

"Clearly ours is the better team and we'd win easily. Our team cohesion is very high, and we're very motivated—all qualities you lack. Your fans can't stand their own national team. You have to understand, our team isn't free, we have to go through checkpoints to get anywhere, and we're under financial constraints. But we're a scoring, winning team.

"We played Algeria, one of the twenty best teams in the world, and we beat them. So what problem is beating Israel going to pose us? We beat the Maldives 8-1. So Israel looks down at us, but I want to know which result you came away with from playing Lichtenstein, which is on the same level."

How did you do it?

"I've never competed with Israel. My goal is to develop Palestinian sports, football and society. Since my election my strategy has been to nurture organization. They tried ruining it for us and blocking us, they did everything to see us fail.

"We've improved since then, despite half of our players not receiving permits to play in our last game, and that made them break down and cry. From day one we said we'll build something in eight or nine years and here we are, we've overtaken Israel, despite how much it humiliated us. Our sports don't belong to Fatah or Hamas, they belong to the people."

But the rankings aren't serious.

"When your national team was ranked fifteenth, you couldn't stop singing it from the rooftops, but now suddenly it's meaningless? We're a professional squad. Look at our results in the Asian Championship's preliminaries. We'll play in the Asian Championships. It's amazing progress."

Rajoub also was not shy about commenting on the incident involving Israel's skipper Eran Zahavi throwing his captain's armband to the ground in frustration with the national team's fans booing him in a game this past September.

"We place values higher than sporting abilities, and so such an incident could never happen to the Palestine team—a player throwing down the captain's armband, the most important thing to both the team and the country it represents. Our captain is from Rafah, and he'd never dare to do such a thing. We'd throw him out on his behind if he did. We're a very cohesive team and our audience and our public is really in tune with us," Rajoub explained.

Minister Regev decided to fund research (into the national team's performance) immediately after you overtook Israel in the rankings.

"Miri Regev can't stand the fact we're ahead of her: we're 82nd in the world and she's behind us. She's a horrible minister of sports, and only after she realized Palestine overtook Israel did she decide to fund the study or whatever it is. It's all politics. Regev is one huge disaster, and you can't even see that. Now she's trying to placate all of Israel's suckers with a study, but where was she up until now?"

What should Israel do?

"Israel should concentrate on itself and come to grips with its failure. It has all the means and isn't doing anything with them. Before I assumed my position, I sat down to study the profession, and I'm not sure how much (Israel Football Association Chairman) Ofer Eini really understands his part. He made a huge mistake as far as I'm concerned when he didn't show the red card to politics and decided to follow his government's policy."

So how will you be celebrating?

"When I return from Saudi Arabia, our team will throw a huge party in Ramallah. They deserve it, and I invite all of the Israelis to come celebrate with us."