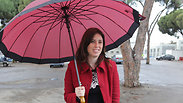 Tzipi Hotovely
Photo: Yaron Brener
A bull loose in a china shop would likely cause less damage than Deputy Foreign Minister Tzipi Hotovely has in her wretched comments about American Jewry. Hotovely, who one would expect to know a thing or two about diplomacy, threw diplomacy to the wind with regards to internal relations among the Jewish people. And after all, why should she pay heed to the millions of Jews who for decades have been, and still are, a pillar of support of the Israeli national security. Besides, American Jews are not Likud voters. Most are not associated with her community and perhaps even believe that being liberal and enlightened, and opposing the occupation, are the most essential Jewish tenets; the complete opposite of Hotovely. So it's ok to freely disparage them, those quarter Jews, if not gentiles. Who needs them anyways?
In a closed door meeting in New York, attended by prominent members of the Jewish community and members from delegations representing "Gesher", an Israeli nonprofit organization, and the Minister of Diaspora Affairs (including yours truly), President of the Reut Institute Gidi Grinstein described the relationship between Israel and American Jewry as "the perfect storm" and added that "revoking the Kotel agreement has caused a nuclear reaction from American Jews; all their frustration with Israel's attitude towards them has burst out."
Other American Jews, among them many youths active in various Jewish frameworks, used harsher language when describing Israel, the most common term used was "a burden." "Israel is not part of our day to day existence," said students at NYU as well as young members of GatherDC, an organization comprising about six thousand Jews who live in the American capital. "We don't really understand how Israel is connected to our Jewish identity; Israel is a tough subject so we gave up on it."
Fewer donations, less identifying
Yes, in 2017 the state of Israel has become a sort of burden to American Jews. Many don't feel any connection to it; some believe that Israel makes them look bad vis-à-vis its policies in the territories. Those whose religious identity is important to them are even more offended because of the disdainful treatment by the orthodox religious establishment that completely avoids any dialogue or meaningful connection with the Reform and Conservative communities that make up the majority of American Jews.
In short, the relationship between Israeli and American Jews is at a breaking point and the results can be seen on the ground: fewer donations, less support for Israel among Jewish students on college campuses, fewer visits to Israel and less desire to identify as a Zionist.
As usual, instead of dealing with the problem, bridging the gap and initiating dialogue that might lessen the damage and the divide, the Israeli leadership is demonstrating weakness. Prime Minister Benjamin Netanyahu loves to attend AIPAC conferences and use the platform to churn out another faultless English speech to the sound of applause from 20 thousand Israel supporters. But when it comes to real leadership decisions Netanyahu is mainly concerned with holding on to his seat, whether the issue is the Kotel or the conversion law.
Netanyahu, who claims to know America and claims that he understands the American character, has abandoned the second largest Jewish community in the world. He has sacrificed its relationship with Israel on the altar of his political survival and his alliance with the Ultra Orthodox parties. When the head allows itself to ignore American Jewry, what will the backbench politicians say?
And sure enough, as Tzipi Hotovely confirmed Wednesday, they will mostly spew rubbish that is bound to explode with a bang and further widen the gap between American Jews and Israel. Apparently, most of us are not very concerned with this, be it out of ignorance, jealousy or just plain shallowness, but significantly, in the most open generation in Jewish history, one of the biggest crises in the history of the Jewish people is taking place—but there is no leadership to deal with it. And Hotovely has added another bulldozer to the destruction.