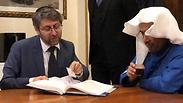 France's chief rabbi (L) and Saudi official al-Issa
Senior Saudi officials tour Paris Grand Synagogue
Saudi Muslim World League Sect. Gen. al-Issa, ambassador to France al-Angari visit Paris Grand Synagogue, receiving grand tour from France chief rabbi, synagogue's rabbi; visit lasts two hours, Saudi officials shown ancient Torah scroll; synagogue's rabbi then invited to luncheon for al-Issa, conjectures about impending invitation to Saudi kingdom.
In a climate of unprecedented seismic shifts in the Israeli-Saudi relationship, France's Chief Rabbi Haïm Korsia and Paris Grand Synagogue's Rabbi Moshe Sabag met with two senior Saudi officials, Dr. Muhammad al-Issa and Khalid al-Angari.

The meeting came on the heels of an interview given by IDF Chief of Staff Gadi Eisenkot to the Saudi Elaph newspaper and combative statements on fighting Iran and Hezbollah.

Al-Issa, former Saudi minister of justice and senior advisor to the king, serves as general secretary of the Muslim World League in Mecca. Al-Angari, meanwhile, is the kingdom's ambassador to France and a former minister of education.

The two officials accepted Rabbi Korsia's invitation and toured the Grand Synagogue Of Paris, called "Synagogue de la Victoire" in French, as guests of Rabbis Korsia and Sabag.

Rabbi Sabag said the meeting with friendly and intimate, not official. "It moved us all, and me more than most. Saudi is considered a hostile power, a conservative Muslim state. It was interesting to meet them. Our conversation and dialogue opened new avenues in both directions," the Paris chief rabbi explained.

"Their visit lasted almost two hours. We showed them around the synagogue and explained the various characteristics of Judaism. It was their first time visiting a Jewish house of worship. It opened a brand new world for them to discover what Jews are like and what Jewish prayer and Jewish traditions are," he added.

The Grand Synagogue's rabbi showed the Saudi visitors a 200-year-old Torah scroll written on reddish gazelle-skin parchment. "It felt like we were making history. It was important for me to put on a new face on Saudi Arabia: not just a state sponsor of terrorism but a country that's open to all religions," Rabbi Sabag said.

When asked if he and Rabbi Korsia have been invited to visit the Saudi kingdom, Sabag replied, "Not yet, but I think we're about to. The ambassador invited me to a Paris luncheon in honor of the secretary and I was the sole rabbi at an event attended by all of the Persian Gulf and Arab states' ambassadors."