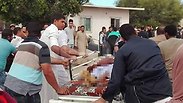 305 massacred in mosque terror attack in North Sinai
Egyptian reports say terrorists detonated charge in Al Rawdah mosque in Bir al-Abed, before opening fire on worshipers; attack apparently aimed to harm members of security forces who were at mosque; out of 305 reported murdered, 128 wounded, most are civilians.
Egypt was hit by its deadliest ever militant attack on Friday, when gunmen opened fire and set off explosives at a mosque in the northern Sinai Peninsula, killing 305 people and wounding 128 more, state news agency MENA reported, quoting the public prosecutor.
No group claimed responsibility for the assault but it was the deadliest yet in the region where for three years Egyptian security forces have battled an Islamic State insurgency that has killed hundreds of police and soldiers.
Following the attack, two UAVs launched by the Egyptian army destroyed 2 vehicles, killing 15 terrorists who took part in the massacre. The Arabic-language Sky News network reported that the Egyptian army was monitoring other vehicles in the area.
State media showed images of bloodied victims and bodies covered in blankets inside the Al Rawdah mosque in Bir al-Abed, west of the city of El Arish.
"They were shooting at people as they left the mosque," a local resident whose relatives were at the scene told Reuters. "They were shooting at the ambulances too."
Arabiya news channel and some local sources said some of the worshippers were sufis who hardliners such as Islamic State regard as apostates because they revere saints and shrines, which for Islamists is tantamount to idolatry.
President Abdel Fattah al-Sisi, a former armed forces commander who presents himself as a bulwark against Islamist militants in the region, convened an emergency security meeting soon after the attack, state television said.
In a televised statement following the meeting, al-Sissi stressed that the attack "will not go unpunished" and that Egypt will persevere with its war on terrorism. The suffering of the victims was not in vain, he added, and will only "add to our insistence" to combat terrorism.
"The armed forces and the police will avenge our martyrs and restore security and stability with the utmost force," al-Sisi stated. "What is happening is an attempt to stop us from our efforts in the fight against terrorism, to destroy our efforts to stop the terrible criminal plan that aims to destroy what is left of our region."
Egypt later said it would delay the opening of the Rafah border crossing to Gaza after the attack due to security concerns. The crossing had been due to open for three days beginning on Saturday.
Naftali Bennett, Israel's education minister, said after the attack that this is "a time for international unity in the war on terror wherever it presents itself: Russia, Europe, the US, Israel and the Arab World—we have all been hurt by terror and must unite in our battle against it."
The Tel Aviv Municipality building was illuminated by the flag of Egypt in solidarity with the victims of the attack.
On twitter, US President Donald Trump denounced the Horrible and cowardly" attack, adding that the world take military action to "discredit" the extremist jihadists and their beliefs.
"Horrible and cowardly terrorist attack on innocent and defenseless worshipers in Egypt," he wrote. "The world cannot tolerate terrorism, we must defeat them militarily and discredit the extremist ideology that forms the basis of their existence!"
Militants have mostly targeted security forces in their attacks since bloodshed in the Sinai worsened after 2013 when Sisi, then an armed forces commander, led the overthrow of President Mohamed Mursi of the Muslim Brotherhood.
But jihadists have also targeted local Sinai tribes that are working with the armed forces, branding them traitors for cooperating with the army and police.
In July this year, at least 23 soldiers were killed when suicide car bombs hit two military checkpoints in the Sinai, an attack claimed by Islamic State.
Militants have tried to expand beyond the largely barren, desert Sinai Peninsula into Egypt's heavily populated mainland, hitting Coptic Christian churches and pilgrims.
In May, gunmen attacked a Coptic group traveling to a monastery in southern Egypt, killing 29.
Roi Kais and Liad Osmo contributed to this report.