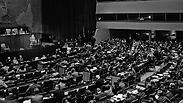 The November 29, 1947 vote
Israel to celebrate 70 years with reenactment of Partition Plan vote
Representatives of the 33 countries who voted 'yes' for the establishment of a Jewish state in 1947 will reenact the vote during a special event at the Queens Museum, where the original vote took place; US VP Pence, Treasury Secretary Mnuchin will be in attendance alongside 700 other guests.
The Israeli delegation to the United Nation will hold a historical reenactment of the November 29, 1947 UN vote on the Partition Plan, which led to the Israel's Declaration of Independence 70 years ago.

The representatives of the 33 countries who voted "yes" for the establishment of a Jewish state will reenact the vote.

The event will be held at the Queens Museum in New York, where the original vote took place in 1947. The hall's design was recreated to look as it did at the time—from the wooden tables to the stage and the world's map on the wall behind it.

US Vice President Mike Pence will attend the vote reenactment, as well as US Treasury Secretary Steve Mnuchin, Israel's Ambassador to the UN Danny Danon and the President of the World Jewish Congress Ronald Lauder.

Over 700 other distinguished guests were invited to the event, including dozens of ambassadors, diplomats and US Jewish community leaders.

After the vote, dancers will break into the Hora in celebration, as the Jewish residents in the Land of Israel did after the original vote, and well-known Israeli singer Ninet will perform "Jerusalem of Gold" and Israel's national anthem "HaTikvah."

The Israeli celebration will be held before the International Day of Solidarity with the Palestinian People, which is held every year on November 29, when the Palestinians normally pass a series of anti-Israeli resolutions.

"The vote on November 29 is a constitutive event in our annals, and we are proud to celebrate it with our many friends from around the world," Israeli Ambassador Danon said. "Precisely because of Palestinian attempts to undermine our right to exist, we will display the great support Israel enjoys around the world and celebrate 70 years of independence and prosperity."