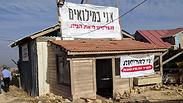 Aharonovich's carpentry shop
Photo: Netiv Ha'avot Struggle HQ
Reservists tell PM: If Netiv Ha'avot carpentry shop torn down, we'll rebuild it
Tzvi Aharonovich's carpentry shop is set for demolition after court determines it was illegally built, but Aharonovich's friends from reserve duty send a letter to Netanyahu and Lieberman saying: 'We won't abandon Tzvi and his family and leave them without livelihood.'
Reservist friends of the owner of an illegally built carpentry shop set for demolition in the settlement Netiv Ha'avot sent a letter to Prime Minister Benjamin Netanyahu this weekend saying they plan to help their friend rebuild.

In four months, the state is scheduled to demolish 15 structures in the settlement after the High Court of Justice ruled they were built illegally, some on privately-owned Palestinian land.

The carpentry shop, owned by IDF reservist Tzvi Aharonovich, was not included in the High Court ruling on the 15 houses, but in a different ruling, and it is expected to be demolished even before that.

Some youth have already decided to barricade themselves in the carpentry shop, while Aharonovich's army friend decided to join the protest by sending a letter to Netanyahu and to Defense Minister Avigdor Lieberman.

"We, team members in Tzvi Aharonovich's reservist unit, finished active service and training on Israel's southern border with Tzvi this week," the soldiers wrote. "While on reserve duty, we were shocked to learn of the state's plans to demolish the carpentry shop, which is Tzvi's livelihood."

"Without going into the political or legal argument, we were taught never to abandon friends and never to leave wounded soldiers in the field," they continued. "If the carpentry shop in Netiv Ha'aVot in Gush Etzion is demolished, we will rebuild it immediately ourselves. We won't abandon Tzvi and his family and leave them without livelihood."

Last August, following the protest of Netiv Ha'avot settlers, the prime minister's chief of staff Yoav Horowitz held a meeting with their representatives and with the head of the Gush Etzion Council, Shlomo Ne'eman. Among other things, the sides discussed possible solutions to prevent the demolition of the 15 homes, scheduled for March 2018.

In October, the Civil Administration approved a temporary solution, according to which the residents would move to a nearby plot for three years. The settlers said at the time the temporary solution was not enough.