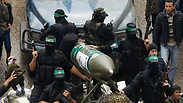 Hamas militants in Gaza
Photo: Reuters
Hamas rejects disarmament, vows to move weapons to West Bank
Despite lofty statements of reconciliation agreement, talks seem to be on verge of falling apart with Egyptian delegation arriving to Gaza, West Bank to try and salvage talks; 'Arms not an organizational issue, there can be only single law, single weapon,' Fatah official says; 'Weapons of the resistance are our dignity, we will continue fighting Israel in West Bank,' Hamas official retorts.
A delegation of Egyptian General Intelligence Directorate officials arrived to the Gaza Strip Monday in an attempt to salvage the Hamas-Fatah reconciliation agreement. Since the last round of talks in Cairo last week, the two parties have been suffering through a crisis stemming from their mistrust of each other, with both sides slinging accusations.
The Egyptian delegation is expected to shuttle back and forth between Gaza and Ramallah until the crisis is averted.
Early warning signs of the impending crisis appeared with the release of the two-day talks' concluding announcement. The message lacked any specific reference to progress in the reconciliation process, preferring instead to hone in on general, vague slogans about the desire to hold new presidential, parliamentary and National Council elections without setting any dates for such elections.
Immediately thereafter leaks started appearing saying Egypt had just barely prevented the collapse of the agreement during said talks, which concluded without the parties agreeing on anything.
Senior Fatah official Hussein Al-Sheikh went on the offensive over the weekend, saying Hamas was trying to hinder reconciliation. "The Palestinian government did not receive control (from the hands of Hamas) over even five percent of its areas of responsibility in Gaza: not administratively, not financially and not as it pertains to security matters," al-Sheikh said.
Al-Sheikh also attacked Hamas for its insistence to not disarm its military wing, saying "Arms are not an organizational issue or an issue relating to a certain faction. We will not abide by them. There will be only a single law with a single weapon."
The senior Fatah official's statements infuriated Hamas, as al-Sheikh is also a member of the Fatah delegation to the reconciliation talks. Hamas officials said his statements were patronizing and insolent, reflecting disregard for the people of the Gaza Strip. In addition, al-Sheikh was blamed by Hamas for trumpeting the demands of Israel and the United States, rather than his Palestinian constituents.
Hamas held a special press conference Monday to address heightening tensions, in which Khalil al-Hayya—deputy to Hamas's leader in Gaza Yahya Sinwar—spoke. "Some elements would like to overthrow the reconciliation process. We must resume the correct path. Hamas is still serious regarding reconciliation," al-Hayya vowed.
Following these moderate statements, however, al-Hayya once again broached the most complex topic on the reconciliation agenda. "The weapons of the resistance are our dignity and we will permit no discussion on this point," he stated.
"The weapons of the resistance will be moved to the West Bank to carry on the fight against Israel. We want to fight Israel in the West Bank. It is our right to resist the occupation until it is no more," al-Hayya said, but avoided going into detail as to how weapons will be transferred to the West Bank.
In response to the combative Hamas statements, holder of the reconciliation portfolio with Fatah Azzam al-Ahmad said the issue of weapons was not at all broached during the Cairo talks, adding it constituted a red line his movement was not willing to debate.
According to the reconciliation agreement, the Palestinian government must receive all responsibility pertaining to the strip by December 1, but it seems the parties are thus far distant from bringing the stipulation to fruition.
Palestinian Security Forces, meanwhile, have been continuing to arrest Hamas operatives in the West Bank with dozens of them arrested in October. Ynet also published the Security Forces foiled seven attacks on Israeli West Bank targets during the same month. The foiled attacks were to include shooting, lobbing explosive charges and stabbing, a Security Forces source said.
The same source also noted 46 Hamas operatives were arrested, with dozens of operatives belonging to other factions also arrested.
Gaza-based terrorist group turned political party Hamas has vowed to expand its militant activities, despite demands by rival Fatah movement that it disarm as part of a historic reconciliation agreement.
Hamas sources had previously told pan-Arab newspaper Asharq Al-Awsat that one of the conditions of the agreement is that Fatah and Hamas will make decisions on important issues together, such as signing a peace agreement or launching a war against Israel.
Israel criticized the reconciliation agreement, saying, "Any reconciliation between the Palestinian Authority and Hamas must include honoring international agreements and the Quartet conditions, first and foremost among them recognizing Israel and disarming Hamas."
Israel set a series of additional conditions that must be met before it would recognize the agreement, including a halt in the digging of tunnels and manufacturing of missiles, an end to terror attacks against Israel, the immediate release of Israeli citizens Avera Mengistu and Hisham a-Said and the return of the remains of fallen IDF soldiers Oron Shaul and Hadar Goldin.