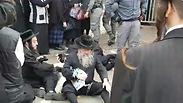 Protests outside the Jerusalem induction center
Photo: Yishai Porat
Some 500 ultra-Orthodox protesters from the Jerusalem Faction demonstrated outside the Jerusalem IDF induction center in the capital on Tuesday. Demonstrations were held in protest of the detention of a young woman in the center. Police were seen confronting protesters and requesting backup. 18 protesters were arrested after disrupting the peace and three officers suffered minor wounds.

Dozens of police officers clashed with the rioting Haredim, who hurled eggs and water bottles at the forces and called them "Nazis."

The police officers prevented the protesters from reaching the gates of the induction center on Rashi Street, where a Haredi woman was detained.

Protesters also called out "religious persecution" and declared "We will die and not enlist."

Police officers were later hit by glass bottles and stones and were punched during the hard-line Haredi demonstrations near the capital's recruiting office.

Magen David Adom treated three wounded cops on-site. The cops were said to have suffered only minor wounds.

Police attempted to disperse the protesters who blocked the adjacent road, confronted civilians and attacked cops. 18 demonstrators have been arrested thus far.

Footage of the clashes in Jerusalem (צילום: אלי מנדלבאום, ישי פורת)

Tuesday's protest came on the heels of Sunday's protest in the capital, when ultra-Orthodox protesters rioted against the conscription law and the arrest of yeshiva students who deserted to avoid service. 36 protesters were arrested in demonstrations that included blocking the passage of vehicles and the Chords Bridge Junction. Roads nearby were only reopened three and a half hours later.

The protests were sparked by the order of the Jerusalem Faction's leader Rabbi Shmuel Auerbach to "protest the honor of the Torah, which was trampled to the ground with the arrest of 12 prisoners from the 'world of Torah' to prolonged periods of time."

Last week also saw mass Haredi demonstrations with hundreds of protesters arrested, and four more deserted being taken into the army's custody.