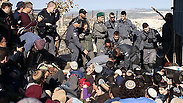 Residents block security forces
Photo: Ohad Zwigenberg
First demolition in of Netiv Ha'avot complete
With no major violent incidents, security forces carry out court-ordered demolition of carpentry shop, built on privately-owned Palestinian land, in Elazar settlement neighborhood; residents laid barbed wire, set tires aflame and barricaded themselves in shop; further demolitions ordered.
Security forces completed the first demolition in the Netiv Ha'avot neighborhood in the Elazar settlement Wednesday of a carpentry shop, after the High Court of Justice (HCJ) ruled that it was built illegally on privately-owned Palestinian land.

The order was part of a larger injunction calling for the demolition of a total of 17 illegal structures from the Gush Etzion settlement by March next year.

Security forces attempt to remove residents (צילום: גל ארבל)

Residents—clad in blue and white sweaters, bearing the words "Second class citizen," similar to the clotehs warn by Amona evacuees—attempted to block security forces from entering the neighborhood to carry out the demolition, with hundreds of protesters assembling around the site.

The protesters also lay barbed wire, among other obstacles, along the access roads leading to the shop, littered the routes with burning tires and overturned a car.

Others barricaded themselves into the shop, forcing security personnel to forcefully remove them.

Last December, the Civil Administration removed a memorial dedicated to an IDF Sayeret Matkal special forces soldier, Lt. Col Emmanuel Moreno, who was killed in Lebanon.






In addition to the shop and the memorial, the HCJ has ordered that 15 other structures be evacuated.

"In accordance with orders from the political leadership, security forces have begun demolition the illegal structure in Netiv Ha'avot," the IDF said in a statement.