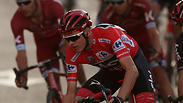 Chris Froome
Photo: Reuters
Olympic medalist Chris Froome, the reigning Tour de France champion, will participate in the 2018 Giro d'Italia bicycle race scheduled to take place in Israel, thanks to a reported € 2 million payment made by Israel.

According to reports by several cycling news websites such as Cycling Weekly, in addition to Israel's € 10 million investment to bring the event out of Europe for the first time, Froome himself will receive an additional € 2 million from the state to take part in one of the world's three largest cycling competitions.

"Yes, I am racing (in—ed) the 2018 @giroditalia," Froome confirmed Wednesday in a tweet.

Sources involved in the Israeli production of the Giro tournament denied the report, telling Ynet that "according to the agreement, Israel is not allowed to interfere in the selection of the groups and athletes participating in it, apart from the production and reimbursement of expenses of € 150,000 per group paid to the riders who came to the press conference in Israel."

"We would be happy if an athlete of Froome's caliber would participate in the race," they added.

The 32-year-old British cyclist's record includes four wins in the Tour de France tournament and two bronze medals at the 2012 and 2016 Olympics in London and Rio, as well as winning the Vuelta a España this year.

He will attempt to become the first rider to claim the Giro d'Italia/Tour de France double for 20 years.

"It's a unique situation for me, having won the Tour and Vuelta and now having the opportunity to go to the Giro and attempt to win a third consecutive Grand Tour," Froome said.

"It's really exciting to be able to take on a new challenge, to do something that perhaps people wouldn't expect and mix it up. It's a whole new motivation for me to see if I can pull off something special next year."

175 of the world's best cyclists will participate in the 2018 Giro d'Italia, to be launched May 4.

The tournament, which will feature eight summit finishes and brutal climbing days in the final week, promises a fierce battle for the general classification with Froome up against twice former winner Vincenzo Nibali and 2017 champion Tom Dumoulin.

The event is expected to draw thousands of tourists to the country, provide a steady flow of income and to give Israel an economic boost. In addition, hundreds of millions of viewers will follow the three days of the Israeli leg, broadcast live to their homes.