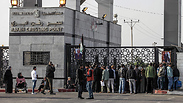 Rafah border crossing
Photo: AFP
Rival Palestinian factions Fatah and Hamas agreed on Wednesday to delay final transfer of power of the Gaza Strip from Hamas to the Palestinian Authorit by 10 days to December 10 to allow time to "complete arrangements", officials said.

The factions signed a reconciliation deal brokered by Egypt last month after Hamas agreed to hand over administrative control of Gaza, including the key Rafah border crossing, a decade after seizing the enclave in a civil war.

The deal bridges a bitter gulf between the mainstream Fatah party of Palestinian President Mahmoud Abbas and Hamas, an Islamist terror movement.

The agreement states that Hamas, which has disbanded its administration, would complete the handover by December 1 but disputes over the transfer process have emerged in recent days and Cairo has sent a senior security delegation to the territory to try to resolve the deadlock.

In a brief joint statement, Fatah and Hamas said they had asked Egypt to delay the timetable from December 1 so that they could "complete the arrangements to successfully conclude reconciliation steps to which the Palestinian people aspire".

Completion will also strengthen Palestinian President Mahmoud Abbas's standing at any potential resumption of the stalled peacemaking process with Israel, analysts say.

It was initially unclear whether the deadline extension would prevent the 40,000-50,000 Hamas-hired employees being paid their November salaries on time.

Hamas has demanded that Abbas lift sanctions he has imposed on Gaza such as slashing salaries of Palestinian Authority-hired public servants and limiting electricity imported from Israel for Gaza.

The Palestinian Authority has demanded that it must have full control of Gaza in order to be able to discharge its administrative powers there and failure to pay the salaries could endanger further reconciliation steps.

Earlier on Wednesday, tension between the two factions rose when Hamas refused to allow Palestinian Authority employees to return to their jobs at three ministries as instructed by the government.