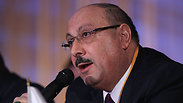 Manuel Hassassian
Photo: GettyImages
Palestinian envoy says he beat Israeli over falafel at US university
Manuel Hassassian, the Palestinian ambassador in London, tells Lebanese TV station that when he was student in Ohio, he beat up Israeli who claimed falafel, hummus as Jewish foods; he was arrested by campus police, but then released and told: 'Palestine should be proud of you.'
Palestinian Ambassador in London Manuel Hassassian has recently said that when he was a student at an American university in Ohio, he beat up an Israeli student who claimed that falafel and hummus are Israeli foods.

In an interview with the Lebanese Al-Quds channel, Hassassian said that "the Jews have invaded and taken over the land in Jerusalem. It was then International Day at the university in Toledo, Ohio, and we displayed (an exhibition on) Palestinian folklore. Nearby was the Israeli stand, and one student declared that hummus and falafel were Jewish national foods."

Hassassaian being interviewed on al-Quds

"I said to him: 'how dare you? You steal my land, exile my people and now you are robbing us of our folklore and national foods? You claim that it is Jewish food? It is our food, of the Palestinian people, and I will not allow this.' I then grabbed him and gave him a beating," he continued.

Hassassian said that he was then arrested by campus security and explained to them what had happened. They then released him saying "Palestine should be proud of you."