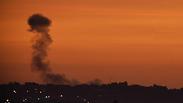 IDF attacks Gaza
Photo: Roee Idan
Islamic Jihad was responding to pressure from opposing interests when it launched a barrage of mortar fire, Thursday, at IDF posts North of the Gaza Strip.
Its militants wanted revenge for Israel's destruction of an attack tunnel and the killing of its members inside. On the other hand, Hamas and the Egyptian government were pressuring the terror group to refrain from reacting. The population of Gaza is also opposed to any escalation that could only make their lives worse.
IAF Bombing Gaza targets (צילום: רועי עידן)
The pressure applied by Hamas and the Egyptians was more persuasive and both insisted that Israeli civilians were not to be targeted, an act that would undoubtedly lead to a harsh response from the IDF.
Hamas rationalized not targeting Israeli civilians since Israel did not hit any Gazan civilians when it attacked the tunnel, only militants. Accepting the rationale, Islamic Jihad limited its aim to military targets alone, based on the understanding that killing civilians would inevitably lead to a new round of hostilities.
Only after deliberations and with the authorization of its leadership in Damascus did Islamic Jihad decide to respond by opening fire on IDF positions.
On the one hand, 15 mortars fired simultaneously suffice to demonstrate a show of force. On the other hand, the target was military and not civilian, and it is more than likely that the lack of civilian bloodshed was no accident or the result of poor fortune for the terrorists.
The IDF's response was also restrained, leading to no deaths of either terrorists nor civilians. This too, can be attributed to Israel's reluctance to escalate matters and be dragged into yet another confrontation.
The IDF targeted Islamic Jihad positions with tank fire. Hamas positions were targeted as well since, as the sovereign authority in Gaza, they are responsible for whatever happens in the territory, whether they like it or not.
The militants used at least ten mortar barrels that had to be dug into the ground, aimed and connected to a firing device. This had to be done surreptitiously to avoid Hamas intervention. In other words, this was an attack that the insurgent group could not have pulled off on its own.
The barrage apparently consisted of 12, highly accurate, 120mm, mortar rockets, that have a range of between 7-10 kilometers, allowing them to be fired from deep inside the Gaza Strip and not near the border which is under the watchful gaze of Hamas and IDF lookouts.
It is not yet clear whether Hamas had prior knowledge of the mortar attack but it is apparent that they were not taken by surprise.
It is safe to assume that the IDF will take additional steps against Islamic Jihad targets and operatives in accordance with warnings issued by the IDF and Minister of Defense Avigdor Lieberman that there will be a harsh response.
As far as Israel is concerned the affair is not yet over. With regards to Islamic Jihad, it seems it is.