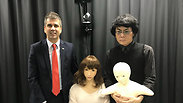 Minister of the Economy Cohen (L) and Japanese Professor Ishiguro
Photo: Ministry of Economy
Israel, Japan ink new agreement facilitating investments
Delegation headed by Minister of Economy Cohen and 11 Israeli cyber firms heads to Japan, reaches deal to increase bilateral trade between countries, facilitate Japanese investments in Israeli companies; two major Japanese companies have already purchased majority ownership of Israeli companies, are looking for further investments.
Minister of the Economy Eli Cohen, who headed to Japan at the helm of an economic group containing 11 Israeli cyber firms, signed a first-of-its-kind agreement allowing Israeli advanced manufacturing companies to work with companies from Japan, whose economy is the third largest in the world.

An operational plan was included in the agreement whose aim was increasing investments and trades between Israel and Japan by using delegations, exhibitions, conferences and business meetings between Israeli and Japanese firms.

Juggernaut Japanese foundations, including ORIX—traded at the Tokyo Stock Exchange for $21 billion—and the Mitsubishi Tanabe Pharma company, recently purchased majority ownership of Israeli companies and are on the hunt for other attractive avenues of investment in Israel.

ORIX is invested in the energy, infrastructure, transportation and real estate sectors in 36 countries, and has recently become the largest shareholder—with a 22.1 percent stake—in geothermal energy company Ormat. Mitsubishi-Tanabe, meanwhile, with a market value of $12 billion, has recently purchased Israeli pharmaceutical company NeuroDerm for 1.1 billion dollars, the single largest deal between an Israeli and a Japanese company and one of the largest in biotechnology.

The agreement Cohen presided over will promote the creation of an accelerator for Israeli companies in Tokyo, in collaboration with Japan's largest organizations. The accelerator will hone in on cyber defense, a field Israel excels in both in relation to number of active companies and to homegrown technological capabilities.

"Japan is a central and important import destination for Israeli exports. We continue working to attract international companies, which—coupled with incentives for exporters and the work carried out by the Israel Export Institute and the Foreign Trade Administration—culminates in crossing the 100 billion dollar threshold, the annual export mark for the Ministry of the Economy," Cohen explained.

Israel's economic attaché to Japan Noa Asher added, "The agreement will allow us to continue the accelerated growth rate evident in the Israeli-Japanese economic relationship, a trend we're hard at work to strengthen."

The agreement also includes increasing cooperation with the Osaka ATR (Advanced Telecommunications Research) Institute, which employs Professor Hiroshi Ishiguro, world renowned for developing the Actroid humanoid robot.

During his visit to Professor Ishiguro's lab, Cohen met the android Erica and other androids developed by the Japanese scientist. Erica even listened to Cohen telling her about his job.